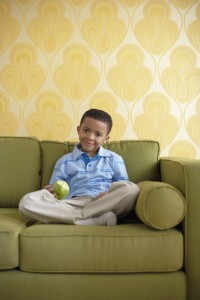 A toxic flame retardant that manufacturers voluntarily removed from children's pajamas a generation ago is now being widely used in couches and children's products such as strollers and nursing pillows.
Under a bill introduced by Sen. Sharon Nelson, D-Maury Island, and Rep. Kevin Van De Wege, D-Sequim, Washington families shopping for a new couch or baby mattress would be protected from unknowingly purchasing a product loaded with these toxic flame retardants.
The Toxic-Free Kids and Families Act would ban the use of chemical flame retardants known as chlorinated Tris, which have been linked to serious health concerns, including increased cancer rates. A similar bill faltered in the Senate last year under pressure from Citizens for Fire Safety, a front group for the chemical industry that has since been discredited and disbanded.
A series of investigative reports by the Chicago Tribune revealed Citizens for Fire Safety lobbied against bans on the flame retardants even though the flame retardants are ineffective in stopping fires at the levels used and pose a health risk to humans. The reports also showed chemical manufacturers have responded to bans on some toxics by replacing them with others chemicals later found to be unhealthy. In June, the University of Washington admonished a retired university burn doctor who had been testifying on behalf of the chemical industry's front group, and the lobbying group was disbanded by the industry.
"The truth is plain to see: these toxic flame retardants don't protect our families; they put our health in danger. There is no reason to fill our living rooms and our nurseries with chemical-laden dust, and the least we can do in Washington state is ban Tris once and for all," said Nelson. "We can and we should get off the toxic treadmill this year."
"These toxic chemicals, billed as a safety precaution, are putting those they purport to protect at risk," said Van De Wege.  "There is no added fire safety benefit from them, but there is clear evidence they put the lives of kids and first responders in danger by making fires more lethal."
The Toxic-Free Kids and Families Act, Senate Bill 5181 and House Bill 1294, would phase out the use of chlorinated Tris in couches and children's products in 2014 and require manufacturers to move to safer alternatives. The bill includes a significant change from last year's proposal by banning Tris from use in upholstered residential furniture. This provision accounts for a recent peer-reviewed study that found Tris in more than half of couches purchased after 2004.
These toxic flame retardants escape from their original products, mingle with household dust and are ingested by those in the house. They are especially ingested by infants and small children, who play at floor level where the dust builds up and who naturally mouth the things they find.  Health concerns about Tris prompted manufacturers to voluntarily remove them from children's pajamas in the 1970s but they have since been found in baby mattresses, strollers, nursing pillows and other everyday children's products.
---