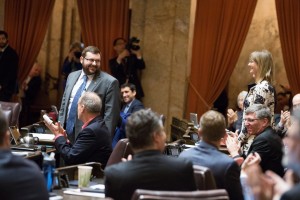 OLYMPIA—Public facilities such as convention centers and fairgrounds would get a boost under proposed legislation by Rep. JD Rossetti (D-Longview).
"This is a bipartisan idea to help folks back home," Rossetti said. "It will help with county fairgrounds, performing arts centers and other key parts of our communities."
House Bill 2296 is the first bill to receive a hearing in the House Finance Committee this year, with lawmakers set to hear testimony and comments on the idea at 9 a.m. on Friday.
Rossetti, a small business owner and youth baseball coach, said public facilities are vital to bring a community together and to generate local jobs through tourism.
The legislation makes it easier for public facilities districts to pay for maintenance or renovations by reforming the law to let districts continue to receive funding for up to 40 years instead of 25 years. By law, the total amount going to public facilities would still be capped at 0.037 percent and must be accompanied by a minimum of 33 percent matching funds from public or private sources.
"People come for events, whether it's a softball tournament, a county fair or an arts festival," Rossetti said. "Those events need a place, a home, and that's why we have public facilities and a way to pay for them. This legislation would let folks back home maintain or renovate what they have without forming a new public facilities district. It's good for the community, good for the state and good for taxpayers."
---