Rep. Tana Senn earns "Legislator of the Week" Award for work on equal pay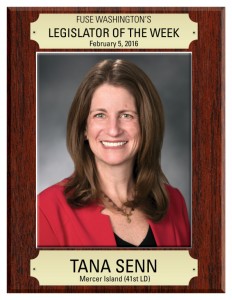 Fuse Washington named Rep. Tana Senn (D-Mercer Island) as the "Legislator of the Week" for her work to ensure equal pay for women.
The state House passed HB 1646 which would increase the transparency of pay scales, and ban employers from retaliating against employees who discuss wages. On average, working women in Washington earn only 77 percent as much as their male co-workers. The disparity is even greater for women of color in the workplace. In 2012 alone, the wage gap resulted in an$18,650 loss for Black women and a $24,111 loss for Latinas.
"Rep. Tana Senn is a leading advocate for equality and fairness in the Legislature," said Sara Kiesler of Fuse Washington. "Her work is critical to ensuring all hardworking women are paid equally and recognized for their contribution to our local economy."
Read the entire press release
here
.
---