We are in week 6 of session, and the House of Origin cutoff has already arrived. Here's a look at what I've been working on.
12 months of contraceptives
On Thursday, February 11th, I had the privilege of shepherding HB 2465 through the House chamber, where it passed off the floor with a bipartisan vote of 91-6. This bill requires insurers to cover 12 months of contraceptives at a time, enabling women to pick up an entire year's worth of contraceptives in a single pharmacy visit.
Consistent access to birth control is one of the best ways to prevent unintended pregnancies, and providing a woman with a one-year supply of contraceptives can reduce a woman's chance of experiencing an unintended pregnancy by 30%. Making monthly trips to a pharmacy is particularly tough for women who don't have access to reliable transportation, move around a lot, or live in rural areas, and this bill helps ensure all women have greater access to reliable and safe contraceptives.
HB 2465 is now moving through the Senate and has broad community support which you can read about in The Olympian and The Seattle Times.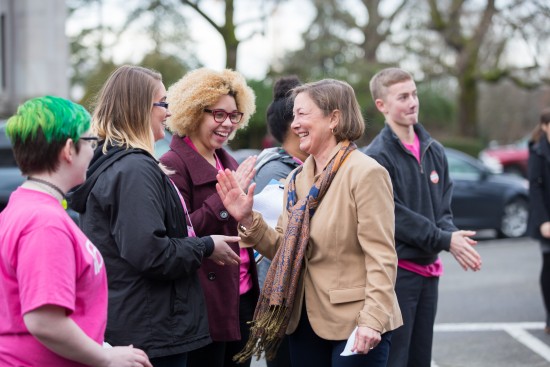 ---
Aerospace Tax Incentives
With recent announcements of significant job cuts at Boeing, the importance of holding corporations accountable to the taxpayers is more important than ever. As you have read in previous e-newsletters, I have been working in Olympia to try and pass legislation that would hold Boeing accountable for the tax exemption that they get from Washington taxpayers.
A few weeks ago, my bill, HB 2638, also known as the Aerospace Tax Accountability bill, failed to pass out of committee after fierce lobbying by Boeing. You can read my full statement on that here.
I have worked to address many of the concerns that were raised with that bill, and today I introduced new legislation to preserve the 83,295 Boeing jobs that existed in Washington in 2013 when the legislature passed the largest tax break in our state's history.
The taxpayers in Washington deserve a measure that will hold Boeing accountable for their promises.
---
Steps Toward Fully Funding Education
I joined my colleagues in the House of Representatives and voted to achieve excellence in our schools and give our 1 million kids in public schools greater opportunities to learn. Among the bills we approved:
---