OLYMPIA – In an unprecedented effort to find affordable ways to make the dream of a college degree a reality, the Washington House of Representatives budget funded a pilot of Representative Drew Hansen's (D-Bainbridge Island) "Free to Finish College" program. The bill (HB 2955) previously passed the House Higher Education Committee with strong bipartisan support.
"We have a lot of students in this state who've interrupted their studies because they started a new family, had a family member who got sick, got a new job, had to move or just can't afford tuition," said House Higher Education Committee Chair Rep. Drew Hansen, author of the proposal.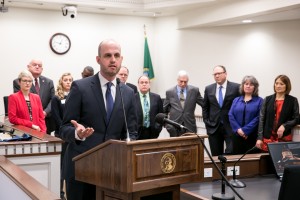 The proposal would cover students not currently enrolled and who haven't been enrolled for the last three years, don't have a college degree or certificate, and are 15 credits or less – about one quarter's worth of credits – from earning their degree or certificate.
At a press conference earlier in the session, university presidents and students from around the state showed their support for the bill.
Anna Shelter, a senior at Eastern Washington University, said, "I can personally attest that the longer I've been in school, the more and more difficult it's been to pay."
Central Washington University President James Gaudino said, "This is an unbelievable opportunity for our students."
"If we are going to be serious and reach our state educational goal of having 70 percent of our adult Washingtonians with a degree or certificate by 2023, this is yet another tool in our arsenal to help get us there," said Clover Park Technical College President Lonnie Howard.
Free to Finish College is an investment in Washington's future which improves access to the degrees that are in needed in a high-tech state like ours. The return on this investment will be felt by families, businesses, and our communities state-wide.
"We want to send a clear message to these students," Hansen said, "that we want them to come back and finish their degree so they can get better jobs and have a better chance to support their families."
The funding for Free to Finish College is part of the Washington House of Representatives budget, which is expected to pass out of the House of Representatives later this week.
---