Legislation to help veterans, improve justice system and aid the disabled now in Senate
OLYMPIA—At the cutoff date for policy bills to pass to the other chamber, the House of Representatives has passed five pieces of legislation by Rep. Christine Kilduff (D-University Place).
Pro-bono legal help for veterans
"Military families run into more legal problems than most folks, simply because they have to be mobile," Kilduff said. "If you're being deployed overseas, or shipped to a base in Oklahoma or Okinawa, it's hard to deal with a legal dispute back in Tacoma. I wrote this legislation because nobody fighting for their country should have to fight a courtroom battle by themselves."
House Bill 2496 was also championed by the state Attorney General's Office, which worked with Kilduff on the issue.
This legislation creates an Office of Military and Veteran Legal Assistance under the Attorney General to facilitate civil legal pro bono services for military service members, veterans, and their families.
It passed the House 98-0 and is now being considered in the Senate.
The ABLE Act
Emma Patterson sat in front of lawmakers and cameras, in a meeting of the most powerful committee in the House—Appropriations—to talk about what a new law would mean to her.
She told lawmakers she's 13 years old and has Down's Syndrome, that she wants to study at college to become an artist. And that's why she supported the ABLE Act.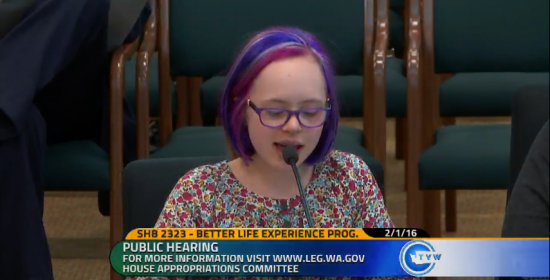 Click on the photo to watch Emma's testimony or use this link.
House Bill 2323 would help families save money to help with the education and care of an estimated 35,000 to 50,000 people with disabilities in Washington state.
"People like Emma just want a chance at an education and a good life," Kilduff said. "This new law would give families a great tool to save money for their sons and daughters."
This proposed state law would work with the federal ABLE Act to set up tax-free savings accounts, similar to college savings plans. Families could invest up to $14,000 a year in an ABLE account and withdrawals wouldn't be taxed as long as they money was spent on housing, education, transportation, health care and related expenses for the person with developmental disabilities.
The law would also fix a problem where families today get penalized for having more than $2,000 in savings before they're means-tested for programs like Medicaid or Supplemental Security Income.
House Bill 2323 passed the House 83-13 and is now in being heard in the Senate Health Care Committee.
Help for vets in small towns and rural areas
"In every corner of the great state of Washington, you'll find army, navy and air force veterans
—in addition to half a million veterans," Kilduff said. "Many vets live in small towns and farm country. It's not easy for them to drive halfway across the state to get the services they've earned."
House Bill 2534 is designed to help those veterans get access to benefits and other support services.
The bill creates a pilot program to reach out to veterans in rural and remote areas to ensure they can benefit from the services that they have earned through their service and sacrifice. Assistance, in partnership with the Department of Veterans' Affairs and other public agencies, may include health care, employment, educational, vocational, mental health, transportation, or substance abuse services.
"We can better serve vets in small towns, in the mountains and on two-lane roads among the wheat fields," Kilduff said. "If you're a veteran, no matter where you live, you deserve our respect and support. And if this pilot program works, I hope we can expand it to help veterans from DuPont to Dayton."
The House passed this legislation on a 98-0 vote.
Two laws to improve our justice system
House Bill 1111 improves how the court system handles official transcripts of testimony and other court proceedings, and brings our laws to the modern age by allowing reports transcribed from electronic recordings. It passed the House 98-0.
House Bill 2462 was requested as a reform by district and municipal court judges. It helps fix a problem that happens when a bail bond agent chooses to surrender a defendant into custody. They can return that defendant to the jail affiliated with the court or a jail where the defendant may have originally been held in custody.
The problem that arises is if the defendant goes to an unaffiliated jail, the defendant is sometimes let go.
"This flaw in our laws creates a huge public safety issue," Kilduff said. "Bail bond agents joined judges in supporting this reform, so I'm happy we could come together on a law to fix the issue and make our neighborhoods safer."
House Bill 2462 passed the House on a 98-0 vote and is now being considered in the Senate.
---