Telephone Town Hall recap and meeting the needs of all Washingtonians
Telephone Town Hall Recap
Thanks to those of you who joined us for our telephone town hall on Wednesday, Feb. 24. We answered your questions on a variety of topics including the environment, funding for education and fixing our broken mental health system.
You asked us tough questions and made it clear about the need to invest in affordable housing, resources for people experiencing homelessness and the necessity for common sense gun responsibility laws. We enjoyed the opportunity to hear from you directly about the issues that matter most to you and your family and the chance to inform you firsthand about what is happening down in Olympia.
If you were unable to listen in live, you can listen to a recording of the call here.
Meeting the needs of all Washingtonians  
The session is flying by! Last week we passed the House budget and now are in the midst of budget negotiations. Some people have said that we should wait on critical issues, that a supplemental session isn't the time to make changes. However, we believe that every legislative session gives us an opportunity to make critical investments.
 Our budget includes funding for: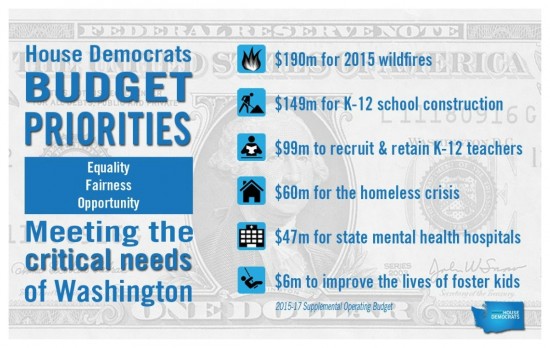 We have until midnight Thursday to achieve our goals. We look forward to a busy week!
---