Due to election year restrictions, this will be the last update to my website until after November. You can still contact me via email at Christine.Kilduff@leg.wa.gov or by calling my district office at 253-534-3231.  Here is the latest on issues important to our district:
I-5 JBLM Corridor Improvements
Over the last ten years, we've seen thousands of people moving into our communities. That has meant more congestion on our roadways, especially I-5. As a result of that congestion, the Legislature approved $495 million to improve the corridor by adding lanes, rebuilding interchanges, improve access, and revise ramps to help residents of Lakewood, Fircrest, University Place, Steilacoom and the rest of Pierce County get where they need to go.
While it will take years for these projects to be completed, we're striving to improve your commute to work, home, and to local businesses. But if you have suggestions or comments you'd like to share, please visit the WSDOT I-5 – JBLM Area Corridor comment submission page by clicking this link.
Western State Hospital
Western State has been in the news a lot the past few years due to escapes, court cases related to bed shortages, and patient and staff safety. The Legislature has taken a proactive approach to managing how money is spent, monitoring policies, and reviewing recommended corrective actions to identify how best to serve patients and staff and keep the community safe, while making sure care is being given to those who need it. By taking on legislative oversight to fix the problems, we're working to make sure we are using the best practices when it comes to mental health care in our state hospitals. You can keep up to date on the work of the Select Committee on Quality Improvement in State Hospitals by clicking here.
Fully Funding Education
Over the last four years, the state has invested $4.3 billion in new K-12 education funding, reduced tuition cost for all public college students in our state, and we have one last, major hurdle to tackle: ending the state's reliance on local levies to fund public education. What we're working to do is come up with a new plan that doesn't require local school districts to raise levies to pay their teachers. The Education Funding Task Force is currently studying exactly how much money is needed to end the reliance on levies and make a recommendation to the Legislature for the 2017 budget session. The task force has already met once and will continue to meet over the summer and fall, hearing testimony from local citizens, stakeholders, teachers, parents, and the general public to develop its recommendation.
If you're interested in proposing a solution, you can email your idea to the task force by July 31st. Please click here to learn more about submitting a proposal.
---
Have a great summer and early fall!  Please do not hesitate to reach out to my office with any questions, concerns, or comments. It is an honor to serve you!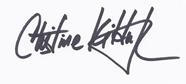 Christine
---