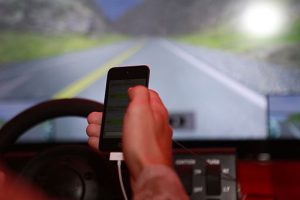 OLYMPIA – The House Transportation committee voted today to advance legislation updating the state's distracted driving law.
The Driving Under the Influence of Electronics Act, sponsored by Rep. Jessyn Farrell, D-Seattle, made it out of the committee ahead of Friday's cutoff deadline for policy bills. It is now one step closer to a vote before the full House.
"This is about saving lives," Farrell said. "It's pretty hard to argue that checking Facebook while driving is perfectly safe, and yet right now it's basically legal. With this bill, we're strengthening the law and giving it some teeth so people will put down their devices and focus on their driving."
The Driving Under the Influence of Electronics Act prohibits drivers from operating a phone or any electronic device with more than one finger. It effectively eliminates holding a device in one hand behind the wheel, even when the device isn't held to the ear. It also increases the fine for distracted driving, nearly doubling it for repeat offenses. A repeat distracted driving citation would also be reported to a driver's insurance company, potentially triggering a rate increase.
"This issue has bipartisan support, and I'm optimistic the House will pass this measure," Farrell said.
The bill number is HB 1371. It now heads to the House Rules committee.
---