The 2017 Legislative Session is in full swing.
I am excited to be back for another year, and I'm ready to face the challenges before Legislature this session on behalf of the 11th district. Throughout session, I will keep you updated on issues that I'm working on as well as issues that you've told me are important to our district – like protecting our neighbors and funding basic education.
Urgent action needed on school funding!
The House of Representatives voted on its first bill of the 2017 Legislative session – HB 1059. You may have heard this referred to as the "Levy Cliff" bill. In short, public schools will lose roughly $358 million in funding for the 2017-18 school year unless lawmakers act soon, and pass this bill to the Governor's desk.
The school districts in the 11th district stand to lose almost $100 million combined if the levy cliff is not extended. Amount districts could lose: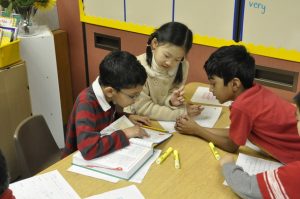 Highline: $12,258,958
Issaquah: $9,916,742
Kent: $18,955,215
Renton: $9,209,913
Seattle: $45,875,702
Tukwila: $142,071
Click here for a more detailed explanation of the levy cliff bill. It's time for the Legislature to fully fund education; this is a first step.
Although this bill passed the House with bipartisan support, early indicators suggest that the Republican-controlled Senate will not bring the bill up for a vote. If that's the case, teachers will receive layoff notices in the coming weeks and crowded classrooms will become even larger.
Students deserve stability in their schools. Passing this bill makes sure that school districts stuck in a tough spot while the Legislature finds long-term solutions to the school funding problem.
I will urge my Senate colleagues to bring the Levy Cliff bill up for a vote. I encourage you to make your voice heard if you believe lawmakers should honor their promises to fully fund education. Washington's 1.1 million school kids shouldn't have their education disrupted because of partisan politics.
Standing up for the Constitution.
As you know, President Trump issued an executive order that restricted travel by refugees and immigrants into the United States. Almost immediately, there were massive protests by the public and condemnation from legal scholars. Very quickly federal judges struck down parts of the order. There has been much discussion about what can be done to stop unnecessary acts that target innocent people based on their religion.
In Washington state, we enjoy world-renowned businesses that employ a workforce that includes immigrants. They contribute to our state's economy, our technology, agricultural, educational, and medical sectors. While we all share in the desire to protect the country from its enemies, well-vetted, innocent immigrants and refugees fleeing war-torn and dangerous parts of the world aren't a threat.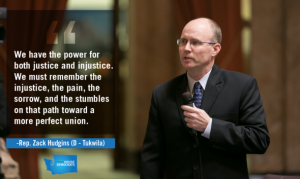 I've signed a letter from the House Democratic Caucus that asks President Trump to comply with federal court orders addressing this issue. In the upcoming days and weeks I will be working with my colleagues to find other ways that the state legislature can address this issue and make sure we are standing up for our core American values.
Here is a link to our caucus press conference on similar issues.
Every year in February, we celebrate the Day of Remembrance to remember Executive Order 9066, which required internment of Japanese Americans during World War II. Here is a video of me speaking on the House Floor about the importance of memory in ensuring that past injustices are not repeated.
Food access, cybersecurity, and voting rights
I spent the time between sessions working hard on three main issues:
Giving students the tools they need to learn.
On January 23, my colleagues and I introduced HB 1508, the Washington Kids Ready to Learn Act. This comprehensive food policy bill includes the work I have done over the last few years on Breakfast After the Bell.
Protecting your personal information.
As a recognized leader in the field of cybersecurity (I sit on the National Conference of State Legislatures' Task Force on Cybersecurity), I am sponsoring a suite of bills aimed at making life online more safe and secure for everyone.
Defending the right to vote.
I'll be working this session to ensure our elections are as fair and accessible as possible.
Please don't hesitate to contact my office with any concerns or ideas you may have to make Washington a more prosperous place to live for all our residents.
---