Hello educators, parents, and others concerned about our education policy:
Throughout legislative session, I will continue to share some of the resources that we are using to make our decisions, and invite you to share your perspective on how these issues play out in your schools and communities.
As you may have heard, the Legislature reached an agreement on the 2017-2019 biennium budget this week. After a lot of hard work by our budget negotiators and legislative staff, the terms of the deal are becoming public today and both chambers plan to vote on the final proposal tomorrow afternoon. Pending the Governor's signature, it will go into effect before the fiscal year cutoff and avoid a government shutdown, which would have closed state agencies, suspended some public benefits and other government functions, and furloughed thousands of state employees.
Since 2012, the legislature has been wrestling with a once-in-a-generation dilemma: how to comply with the Supreme Court's McCleary decision and truly amply fund our state's public schools. For years, school districts have been using local levy dollars to supplement inadequate funding of the state's program of basic education. As a result, the quality of the education that students receives can differ drastically based on where they live. The court found this to be unconstitutional.
Because we have a divided legislature, the proposals for how to fix this problem were radically different. The gap between the House and Senate proposals was significant, and they relied on different revenue sources to fund them. The final budget represents the compromise that both sides could agree on.
This McCleary agreement invests $7.3 billion in schools statewide over the next four years.
Here are some highlights from the education budget proposal:
New salary system
By 2020, Washington will phase in a new salary system using a statewide average salary allocation for instructional, administrative, and certified staff with three levels of adjustments based on regional residential values. Minimum salaries are increased. Inflationary adjustments (formerly called cost of living adjustments, or COLAs) and three professional learning days are included as part of the state's definition of basic education.
Local levies and local effort assistance
Local levies are capped at $1.50 per thousand of assessed value, and may only be used for activities supplementing the state's program of basic education, a list of which is included in the budget bill.
State property tax
Establishes a new state property tax for common schools for a total rate of $2.70 per $1000 of assessed value when combined with the existing state property tax levies.
Collective bargaining
Collective bargaining is protected, but agreements may not provide salary increases that exceed inflationary adjustments.
Initiative 1351
Staffing enrichments provided in the prototypical funding formula under Initiative 1351 are recodified in a different chapter of the RCWs. If additional staffing units are funded in future operating budgets, those units will then become a part of basic education.
Health benefits
Beginning in January 2020, all school districts must participate in the newly formed State Employees Benefits Board (SEBB) within the Health Care Authority (HCA). All district and educational service district employees are merged into a single, community-rated risk pool separate from the risk pool for PEBB (other state employee) health benefits. The scope of health benefits provided for school employees are removed from local bargaining, and bargaining must be conducted between the Governor and one coalition of representatives for all employees affected by SEBB. This is a major change from current practice.
Accountability
By 2019-20, school districts must provide separate accounting of state and local revenues and expenditures data. The State Auditor must conduct regular financial audits to ensure districts are using local revenues in compliance with this act.
Categorical programs
Career and Technical Education and Skills Center Programs' class sizes reduced
Highly Capable Program allocation increased from 2.314 to 5 percent of a district's enrollment
Additional Learning Assistance Program allocation for high poverty schools
Special Education allocation increased from 12.7 to 13.5 percent of a district's enrollment
Increased Transitional Bilingual Program instruction in middle and high schools by two hours
Other education-related bills or budget items that we're working on include:
I am sending you the information I have received from staff. I am still working through the documents myself and will work to answer your questions as soon as I am able – keeping in mind that staff is working overtime to finalize the bill in time to avoid a government shutdown. I have attached three documents: K12 and tax impact analysis by district; summary of K12 basic education program allocations and additions; and a more in-depth look at the McCleary agreement. Please note that the district-to-district comparisons shown in the spreadsheet may not accurately reflect the effects of this budget because it combines different funding sources. I am working to parse out these numbers.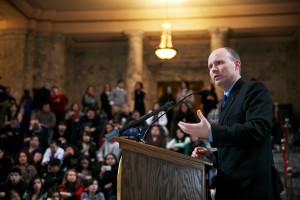 I will send additional information as it becomes available. The most up-to-date source of budget documents on the LEAP website, which likely reflects the information I have access to as well. You can also follow our progress as things move and change rapidly on the House floor calendar.
Thank you for your thoughts, guidance, and concern for our kids and schools,
Zack
---