OLYMPIA – State Representative Tana Senn (D-Mercer Island) was recently honored for her legislative work advocating for children's mental health in Washington state. On Wednesday, November 15, Senn received the American Academy of Pediatrics' national 2017 Child Health Advocate Award in a ceremony held by the organization's Washington chapter.
The Child Health Advocate Award is given to state or local government officials for contributions to children's health. During the 2017 legislative session, Senn, along with co-award recipient Rep. Tom Dent (R-Moses Lake), worked to pass two key pieces of children's mental health legislation.
"By working to obtain funding for adolescent depression screening, postpartum depression screening, additional child psychiatry residency positions, the use of telemedicine to increase access to mental health services, and integrating behavioral health into schools and primary care settings, [Senn and Dent] are ensuring that all of Washington's children have the opportunity to reach their full potential," said Dr. Fernando Stein, President of the American Academy of Pediatrics, in a letter of congratulations and referring to Senn's legislation, HB 1713.
Children's mental health has been a long-standing legislative priority for Senn and she co-chairs the legislative Children's Mental Health Workgroup. In addition to HB 1713, Senn has championed policies to expand social-emotional learning in public schools, fund school counselors, and increase loan forgiveness for mental health care providers in underserved communities.
"When speaking with educators, I repeatedly heard that kids' mental health was one of their biggest concerns," said Senn. "By making it easier to access services, we not only help the next generation develop a strong foundation for health and well-being, but also reduce longer-term needs and make a difference in the overall mental health picture for Washington."
The American Academy of Pediatrics is a national organization "committed to the optimal physical, mental, and social health and well-being for all infants, children, adolescents, and young adults."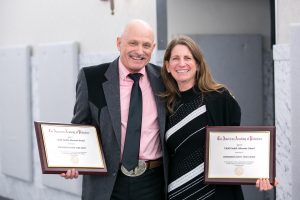 ---