Talking gun violence & school safety with student leaders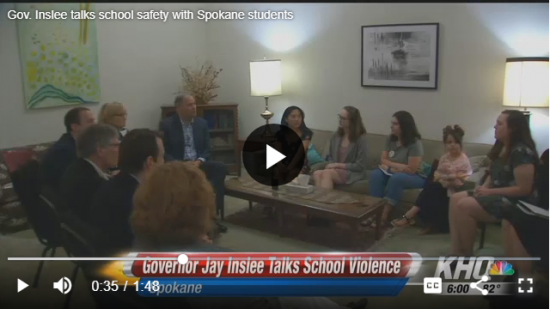 On April 27, I joined Governor Inslee, First Lady Trudi Inslee, Sen. Andy Billig and Rep. Timm Ormsby for a round table discussion on gun violence and school safety with student leaders from Lewis & Clark, Ferris, and Shadle Park High Schools. The students shared their perspectives on solutions to reducing the threat of gun violence in our schools. Their message to us was: no to arming teachers, yes to more mental health professionals on campus. Local station KHQ covered the meeting.
I was impressed by the engagement and dedication of these students to confront this issue directly and to ensure their voices are heard. While I'm pleased the Legislature acted this year to ban bump-stock devices, protect victims of domestic violence and help prevent suicide by firearm, I will continue working on solutions at the state level to help keep students safe at school and in our community.
Connecting with Spokane's future civic leaders
Now that the legislative session is over and I'm back in Spokane, I get to participate in local events and meet face-to-face with people who don't or can't travel to our state capitol. I was excited to take part in a recent discussion with participants at Leadership Spokane's "Healthy Communities" Day at Providence Sacred Heart Medical Center. Leadership Spokane is a 10-month program for professionals on civic leadership, aiming to train the next generation of leaders. After making a few brief remarks about the importance of civic engagement and participation, I opened it up to questions from the group. Lots of great questions and discussion followed, ranging from topics like universal healthcare, tax reform, and tips on engaging with legislators.
If you'd like me to visit your organization to discuss legislative issues and topics important to our community, please email me or call my Spokane office at (509) 458-3563.
Did you receive my 2018 legislative update?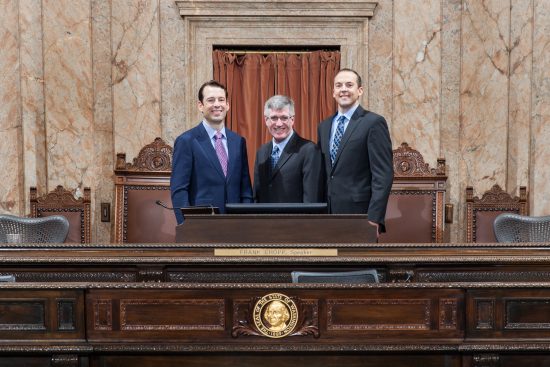 Rep. Timm Ormsby, Sen. Andy Billig, and I send out an end-of-session newsletter mailing to households across the district each year. It's a brief report on our work in the Legislature and what it means for the people and families of Spokane. This year's newsletter should be hitting mailboxes about now, but you can also view it by clicking here or on the image above.
Election year "freeze" begins May 14
During an election year, there are certain restrictions on my communications to prevent the use of state resources for election purposes. These restrictions include a freeze on e-newsletters such as this one, as well as to my legislative website – meaning no new content can be added beginning May 14, 2018 until after the general election in November. However, if you have questions or comments about legislative issues, please feel free to continue to contact me. And I hope to see you around Spokane this summer!
It's an honor to serve you.
Best regards,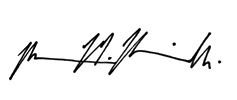 Representative Marcus Riccelli
3rd Legislative District – Spokane
---