Washington lawmakers' push to reform policing begins with hearing on changes to tactics
Members of the public weighed in Tuesday on a bill that would restrict and standardize tactics police officers are allowed to use across Washington state, including banning chokeholds and preventing law enforcement agencies from buying or using tear gas. Continue reading at The Olympian. (TVW)
---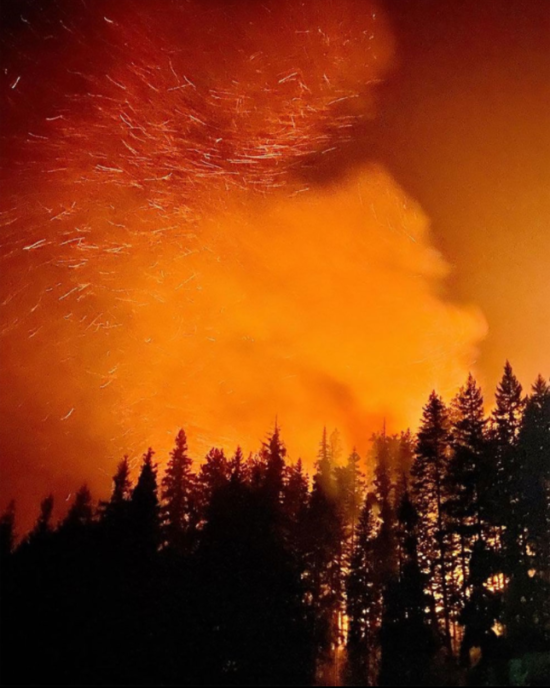 $126 million wildfire prevention bill unveiled in Olympia
Commissioner of Public Land Hilary Franz is asking state legislators to pass a $126 million biennium bill to prevent wildfires in Washington state. "2020 was a catastrophic year as we know; we saw more than 800,000 acres burn," said Franz. "We tragically lost a small boy's life and the town of Malden was completely leveled in a few hours." Continue reading at KOMO News. (Eric Schultheiss)
---
Lawmakers urge Inslee to prioritize all school staff for COVID-19 vaccine
Republican and Democratic leaders of education committees in the Washington Legislature are urging Gov. Jay Inslee and the state Department of Health to change state vaccination guidance so that all school employees are prioritized to receive a coronavirus vaccine in February, instead of putting school employees over age 50 ahead of other school staff. Continue reading at KNKX. (Sen. Brad Hawkins)
---
Print
Associated Press
Gov. extends Capitol security efforts through Inauguration
Atmospheric river brings record rain, flooding, landslides
Lands chief again proposes dedicated funds to fight wildfire (Springer)
US will require all arriving passengers to get COVID-19 test
Pandemic's toll shows up on students' college applications
Trump appointees pressure Census for report on undocumented
Asian stocks mixed after Wall St rebounds from uncertainty
The Latest: House urges Pence to remove Trump from power
Gov. Inslee extends Capitol security efforts through Inauguration
Aberdeen Daily World
Coastal Harvest acquires new mobile food bank
Board of Health to consider discontinuation of needle exchange program Thursday
Vehicle licensing at Courthouse temporarily unavailable due to staffing issues
Commentary: The unprotected Capitol was an inside job
Letter: "Saddened and sickened" by commissioners' comments
Letter: Commissioners misplace their allegiance
Letter: We can still come together
Bellingham Herald (subscription required)
Washington lawmakers' push to reform policing begins with hearing on changes to tactics (Entenman, Johnson, Lovick, Goodman)
Here are the latest COVID-19 case numbers confirmed Tuesday in Washington state
Coronavirus updates: Washington state passes 275K total cases, nearing 3,700 deaths
Who's been hit hardest during Whatcom's record-setting post-holiday COVID surge?
New forecast shows Nooksack cresting higher than previously thought. Here's what to expect
U.S. and Canada announce COVID-19 border closure extended until at least Feb. 21
Whatcom's record-breaking pace continues with 239 new COVID cases Monday, state reports
Families affected by police violence call for reform
Firefighters will distribute COVID vaccine to adult family homes, Washington mayor says
COVID may eventually evolve into a seasonal illness — like common colds, study predicts
Does body size affect how well a COVID vaccine works? Experts weigh in
People flying into US will soon have to provide negative COVID result, CDC says
Coronavirus updates: Washington state passes 275K total cases, nearing 3,700 deaths
US COVID-19 deaths hit another one-day high at over 4,300
Pence says he won't invoke 25th Amendment to remove Trump. Read his letter to Pelosi
Hundreds of gray whales are dying in 'unusual' event not seen in decades, experts say
 
The Daily News
Herrera Beutler announces she will vote to impeach President Trump
NWIW says $2.3 billion construction project will need 1,434 workers
Cowlitz commissioners say they have no role in state mandates
Southwest region meeting half of new state COVID-19 benchmarks
Everett Herald (subscription required)
Drive-thru vaccination clinics open in Everett and Lynnwood
What we know: Washington coronavirus outbreak at a glance
Boeing deliveries drop despite 737 Max's return to flight
Saunders: 'Victory' for MAGA crowd would lead to civil war
WaPo Comment: The terror threat from within we hadn't planned for
Bloomberg Comment: For time being, Democrats are the pro-business party
Editorial: 'This is your captain speaking: Settle down!'
Kitsap Sun (subscription required)
Shipyard will see a new homeported carrier and submarines in its dry docks in 2021
Sick and dead finches reported in Kitsap County and across Washington state
Kitsap Rifle and Revolver Club ordered to pay back state grant money
New Seabeck bridge opens to vehicle and salmon traffic
Some Washington state lawmakers come to the capitol armed with guns (Jinkins, Hobbs)
News Tribune (subscription required)
Windstorm leaves thousands without power after blowing through Puget Sound area
Contractor sues small Pierce County town over delayed trail improvements
Pierce County COVID-19 case numbers for Tuesday 'likely an undercount' with data delay
Racist stickers plastered at Tacoma school, park investigated as hate crime
New Pierce County Council majority to prioritize housing, early childhood development
WA Sen. Patty Murray wants Trump out now and punishment for his senate enablers
Pence rejects call to remove Trump from power through 25th Amendment
Editorial: Olympia fence isn't Berlin Wall, but closing state Capitol sadly necessary – for now 
New York Times
Live Updates: Calling the House a 'Crime Scene,' Lawmakers Move Toward Impeaching Trump
Manhunt Intensifies as Authorities Warn Some Rioters May Face Sedition Charges
Covid-19 Live Updates: Distracted by D.C. Political Crisis, U.S. Sets Daily Record for Virus Deaths
Tribal Elders Are Dying From the Pandemic, Causing a Cultural Crisis for American Indians
House Debates New Article of Impeachment for Trump
Covid-19 Took a Bite From U.S. Greenhouse Gas Emissions in 2020
Olympian (subscription required)
Washington lawmakers' push to reform policing begins with hearing on changes to tactics (Entenman, Johnson, Lovick, Goodman)
More than 300,000 without power in region following windy rainstorm overnight
Olympia City Council approves interim police guild contract, but hints at future changes
Thurston County reports 52 new COVID-19 cases Tuesday
Can climbing be done safely during COVID? WA to find out with reopening of indoor gyms
Ferry owner says he plans to move Olympia-based vessel in the next 30 days
Flood watch in effect as Tacoma Power increases flow on Nisqually River
'I thought I was going to die.' AOC describes harrowing experience during Capitol riot
Peninsula Daily News
Jefferson Healthcare breach possibly affects 2,550 people
WHAT WE KNOW: Coronavirus outbreak at a glance
Puget Sound Business Journal
Starbucks commits $100M to create community resilience fund
Seattle to send vaccination teams to adult family homes
Most PPP lenders in the dark on when they can process loans. But it could be soon.
Seattle Times (subscription required)
Wild weather with 70 mph winds whips Seattle and Western Washington, with road closures and power outages
Washington state ferry ridership dropped to historic lows last year
Seattle man who served in Washington National Guard is among first indicted in attack on U.S. Capitol
Washington state caught by surprise as U.S. makes abrupt shift on coronavirus vaccines
Washington state lawmakers hear testimony on bill to ban chokeholds, other police tactics (Johnson)
Seattle Weekly
What could Biden's nuclear policy look like?
Skagit Valley Herald
Weather overnight causes damage, power outages, some school closures
County Republican Party shares right-wing theories of Capitol violence
State's latest reopening plan brings relief, frustration for businesses
Tri-City Herald
"A long 10 months." Richland 6th graders to return to classrooms in 2 weeks
Government prayer: Franklin commissioner wants to start meetings a new way
Tri-Cities area COVID cases climb above 22,000. New case rates are high
Tri-Cities healthcare professional discusses COVID vaccines
Benton officials want Inslee to cede COVID authority to counties
USA Today
House passes measure calling on Pence to invoke 25th Amendment and remove Trump from office
Hurting long before COVID-19, failing companies took stimulus money then closed anyway
Coronavirus updates: US tops 4K daily deaths for second time, pushing total to 380K; Texas joins California as only states with 2M cases
Walla Walla Union Bulletin (subscription required)
College Place youngsters return to the classroom; middle, high schoolers to follow in the coming weeks
Whitman College loans hospital super-cold freezer to store Pfizer COVID-19 vaccine
Walla Walla Public Schools, teachers union, agree to phase students back to the classroom this month
Walla Walla County judge sets bail for Craig H. Ramsey, accused of holding two at gunpoint
Bail set at $750,000 for Stephen A. Taylor, accused in Walla Walla double shooting
Walla Walla area law enforcement use K-9 to locate wanted man near Waitsburg
Craig Harmen Ramsey of Walla Walla arrested after allegedly pointing shotgun at two people
Washington Post
House poised to impeach Trump for 'incitement of insurrection'
Secret Service launches massive security operation to protect Biden inauguration
Several senior Republicans join impeachment push
Biden team briefs Congress on emerging stimulus plan, aims for bipartisan deal
Refunds and stimulus payments are still piled up at the IRS, and this year may be just as bad, new report says
Broadcast
KING5 TV (NBC)
Ban on chokeholds, tear gas among the police reforms debated by Washington lawmakers (Johnson)
Windstorm knocks out power to over 500,000 around Puget Sound
WATCH LIVE: House begins proceedings on 2nd Trump impeachment after Capitol siege
Controversial social media site Parler moves to Sammamish-based web domain
Seattle Fire plans house calls to vaccinate long-term care residents and staff
Sen. Murray of Washington takes hard-line stance on impeachment of Trump following Capitol siege
2020 had the highest number of Seattle homicides in 26 years
KIRO7 TV (CBS)
Chaos at the Capitol: House slated to hold Trump impeachment vote today
Calls grow to crack down on unruly airline passengers
Seattle Fire to begin administering COVID-19 vaccines to adult family homes
Racist stickers found at elementary school in Tacoma
Youth sports leaders cry foul over encampment at Miller Playfield
Ferry ridership plunges to lowest level since 1975
Paycheck Protection Program accepts new applications
US-Canada border closure extended to Feb. 21
KOMO4 TV (ABC)
WSP investigating multiple threats made against Washington's State Capitol 
Over 500,000 without power as windstorm slams rain-soaked region
Seattle gets green light to distribute COVID-19 vaccine, but it will start small
Amazon seeks to keep conservative app Parler offline
Some restaurants push for Phase 2, indoor dining at 25 percent capacity, others hesitate
$126 million wildfire prevention bill unveiled in Olympia
KNKX FM
Lawmakers urge Inslee to prioritize all school staff for COVID-19 vaccine (Wellman, Santos)
Police and reformers face off over proposal to ban chokeholds, tear gas and military equipment (Johnson, Goodman)
'Atmospheric river' brings threat of floods, landslides in Washington
3rd Member Of Congress Tests Positive For Coronavirus, Blames Capitol Attack Lockdown
House Approves 25th Amendment Resolution Against Trump, Pence Says He Won't Invoke
KUOW FM
POLICE AND REFORMERS FACE OFF OVER PROPOSAL TO BAN CHOKEHOLDS, TEAR GAS AND MILITARY EQUIPMENT (Johnson) 
Time for GOP lawmakers to 'step up' no matter the personal cost, says this Republican
Pandemic blog: Covid-19 updates for Washington state
Census Bureau Stops Work On Trump's Request For Unauthorized Immigrant Count
Seattle Covid vaccine study participants now finding out if they got the real deal
Should The Government Pay People To Get Vaccinated? Some Economists Think So
Trump's Census Director Is Trying To Rush Out Data On Noncitizens, Watchdog Says
Joint Chiefs Remind U.S. Forces That They Defend The Constitution
Urging Lawmakers To Act, Rep. Torres Recalls 'Running For My Life' During Riot
Justice Department Warns It's Coming For Those Involved In Capitol Violence
Trump Administration Changes Course to Speed Up COVID-19 Vaccine Rollout
NW Public Radio
Washington Lands Agency Seeks Big Funding Bill To Combat Increasingly Bigger Fire Seasons
(Springer)
Police, Reformers Face Off Over Proposal To Ban Chokeholds And Military Equipment In Washington (Johnson)
Roots Of U.S. Capitol Insurrectionists Run Through The West And Northwest
Q13 TV (Fox)
Washington windstorm knocks out power to hundreds of thousands overnight
Blocked, flooded roads and landslide risks in Western Washington as rain continues to hit the region
Schools, lawmakers call on governor to vaccinate educators sooner (Santos, Wellman)
Seattle police union head won't resign after attack remarks
Law enforcement says hate crimes target Shoreline Black-owned business
Lakewood Police investigating after reported death threat against 2020 presidential elector
Locals in Olympia have front row view of the ongoing conflict at the Capitol
Web
Crosscut
What it takes to reopen Washington schools in a pandemic
Some WA legislators come to the Capitol armed with guns (Jinkins, Hobbs)
Opinion: Uber's price hike signals a bigger, more expensive fight to come
My Edmonds News
Daily State Legislative Report for Jan. 11, 2021 (Jinkins, Sullivan)
Daily Legislative Report for Jan. 12, 2021 (Fitzgibbon, Ortiz-Self)
MyNorthwest
New texts from state DOH aim to speed up COVID-19 exposure notification
Whatcom County COVID transmission rate highest in Washington state
City of Seattle approved to administer COVID vaccine to residents, workers
Parler moves domain name to Sammamish company after Amazon cancels hosting services
Hundreds of thousands across Puget Sound region wake up without power
Seattle had 'highest number of murders in 26 years' in 2020
Part of Employment Security's Benefits Data Dashboard down indefinitely
Seattle Public Schools Superintendent calls for higher vaccine prioritization for educators
Seattle council: Police union 'would be wise to relieve itself' of Mike Solan as president
Slog
Two Arrested at Washington Capitol as Lawmakers Vote to Conduct Session Remotely (Billig)
"Two" SPD Officers Photographed at Capitol Insurrection
West Seattle Blog
WEST SEATTLE WINDSTORM: Big power outages; downed trees and wires
---