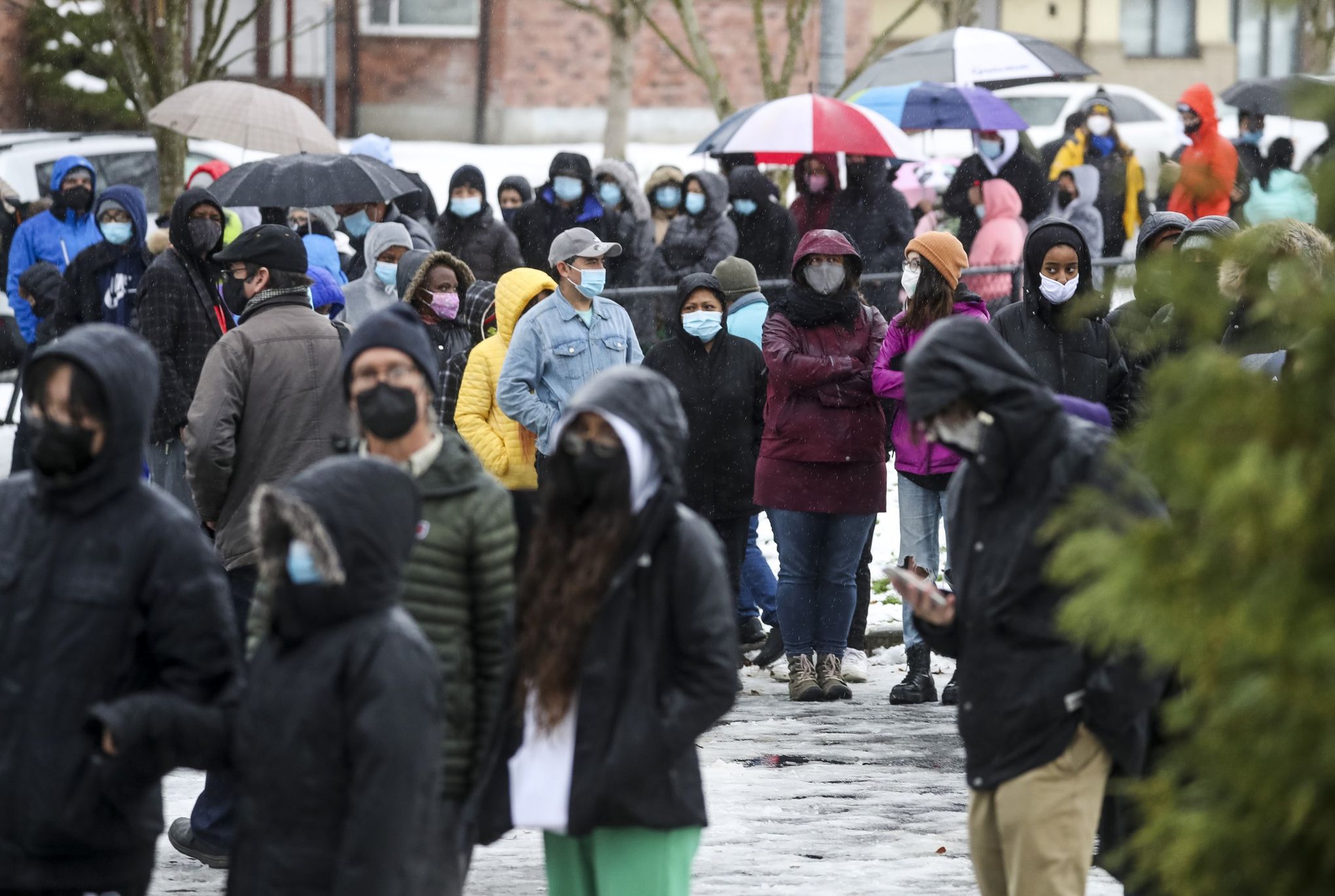 Washington logs 1M coronavirus cases
The number of coronavirus cases in Washington state has surpassed 1 million, with a new surge in cases largely driven by the highly transmissible omicron variant. The state Department of Health confirmed the number on Wednesday, just nine days shy of two years since the first case in the country was confirmed in Washington on Jan. 21, 2020. Washington surpassed 500,000 total coronavirus cases in August, the wave at that time fueled by the delta variant. Continue reading at The Seattle Times. (Amanda Snyder)
---
WA troopers still more likely to pull over Native American drivers
Two years after InvestigateWest reported that the Washington State Patrol was searching some racial and ethnic groups at a rate one researcher called "disturbing," the agency has released a new analysis of its stop-and-search data. The headline: "No systematic agency bias." The State Patrol and Washington State University researchers who released the study this month, however, acknowledge the problem InvestigateWest uncovered in 2019 persists. State troopers are still more likely to search Black, Latino, Native American and Pacific Islander drivers, even though the troopers are more likely to find contraband like drugs or weapons when they search white drivers. Continue reading at InvestigateWest. (Jason Buch)
---
No, Washington state isn't forcing people into quarantine camps
A routine meeting of the Washington State Board of Health on Wednesday became the topic of a nationwide misinformation campaign this week as social media users, political hopefuls and conservative pundits spun bogus claims that the meeting would include a vote to force unvaccinated residents into COVID-19 quarantine camps. A communication manager for the board said it had been inundated with more than 30,000 public comments, some threatening, related to the false theory, which misrepresented the board's scheduled discussion on HIV as a proposed change to COVID-19 policy. Continue reading at The Associated Press.
---
Print
Associated Press
No, Washington state isn't forcing people into quarantine camps
Card-room operator files lawsuit over sports betting at WA tribal casinos
In State of the State, Inslee calls on lawmakers for 'bold' action
Charges filed against Electron Hydro over Puyallup River pollution
State senate OKs bigger penalty for election worker harassment (Frockt)
Biden highlighting federal 'surge' to help weather omicron
Omicron may be headed for a rapid drop in US and Britain
WA Senate approves bill further penalizing election worker harassment (Frockt)
Bainbridge Island Review
BISD makes plans if COVID keeps rising
Bellingham Herald
Magnitude of Whatcom's COVID testing demand 'far beyond anything we have ever seen before'
Whatcom's 3 'Murder Hornet' nests eradicated in 2021 genetically related to 2020 nest
One in 77 Whatcom residents tested positive for COVID-19 during first 10 days of 2022
With Whatcom's emergency care system 'stretched to its limits,' residents asked to help
Whatcom's record COVID rate continues, WWU extends online, Bellingham schools update rules
Capital Press
Washington Farm Bureau fears 'bad outcome' with CD election bill
Columbian
COVID-19 cases soar in Clark County schools
Opinion: In Our View: Police reform done right takes time, diligence
Everett Herald
No march, but many ways to celebrate MLK Day in Everett
What we know: Washington coronavirus outbreak at a glance
The state of the state and the mind of the governor (Carlyle)
Bloomberg Comment: If not to sway votes, why speak on voting rights?
WaPo Comment: Our certainly in our own beliefs may be our downfall
WaPo Comment: Our response to covid must change with each variant
Editorial: Keep guard up against covid's omicron variant
The Inlander
As contagious omicron hits Spokane, focus on testing intensifies as hospitals fear being overwhelmed
Kitsap Sun
State senators propose making pickleball Washington's official sport (Lovick, Hunt, Lovelett, Pedersen, Randall, Rolfes, Wellman)
Bill to reduce catalytic converter thefts introduced
News Tribune
Pierce County schools change quarantine, isolation guidelines amid COVID-19 case surge
State passes 1 million COVID pandemic cases as WA adds 17,000 more Wednesday
Opinion: Using Growth Management Act, WA lawmakers can create resilient climate future. Here's how
New York Times
Covid Live Updates: Biden Announces 500 Million More Tests and Military Help for Hospitals
Is Omicron Peaking?
Democrats Plan to Fast-Track Voting Rights Bill, Speeding a Showdown
Olympian
State passes 1 million COVID pandemic cases as WA adds 17,000 more Wednesday
Washington Tribes face sports betting, gaming challenge in new lawsuit
'We need action' Gov. Inslee says in annual State of the State address
Peninsula Daily News
Four more deaths reported on Peninsula
Port Townsend Leader
Number of COVID-19 deaths in Jefferson County climbs to 21
19 new COVID-19 infections reported Tuesday in Jefferson County
Puget Sound Business Journal
Boeing needs to hand off hundreds of jets in inventory, setting up a big year ahead
Insurers will cover 8 at-home Covid-19 tests a month. Here's why it won't solve employers' testing dilemma.
Mayor Harrell extends Seattle eviction moratorium for 30 days
A new $1B loan program aims to boost the food supply chain. Here's who qualifies.
Campus mental health crisis adds to burdens on community colleges
Seattle Medium
House Democrats Introduce Bills To Provide Clarity To Police Accountability Laws (Johnson, Rule, Bronoske, Goodman)
Nobles Sponsors Bill To Support Economic Well-Being For Foster Youth (Nobles)
Inslee To Rescind Gubernatorial Directive That Fueled Disparate Impacts Of I-200
Mayor Harrell Appoints New Department Leaders And Hires Director Of Public Safety
Seattle Times
Protesters descend on WA Board of Health after misinformation about vaccine plans goes viral
Washington Democrats and Republicans want to spend more on transportation. But what will the Legislature get done? (Liias, Nguyen, Mullet, Fey)
Seattle police officer involved in 2020 Proud Boys hoax has been rehired
Has streetside dining overstayed its welcome in Edmonds?
A visual guide to protective masking against COVID
Seattle students demand masks and COVID tests, plan sickout as school closures climb
Washington logs 1M coronavirus cases
Skagit Valley Herald
Skagit Valley hospitals swamped due to omicron variant
Dakota Creek apprenticeship program getting going
Tri-City Herald
Fired Kennewick fire chief sues, saying racial discrimination cost him his job
Vashon-Maury Island Beachcomber
Vashon is hit with mudslides, flooding, high tides
Walla Walla Union Bulletin
Providence St. Mary Medical Center in Walla Walla tightens visitor restrictions
Whitman College names physicist, Ohio college head Sarah Bolton as 15th president
Washington Post
The past seven years have been the hottest in recorded history, new data shows
Navient reaches $1.85 billion settlement over student loan practices
Colleges lost 465,000 students this fall. The continued erosion of enrollment is raising alarms.
Which mask? What test? Covid's latest surge spreads an epidemic of confusion.
Broadcast
KING 5 TV (NBC)
Investigation launched into company operating COVID-19 testing in Washington
Sauk-Suiattle Indian Tribe files 3rd lawsuit over Seattle City Light's dams
Teachers frustrated with Seattle Public Schools' handling of COVID-19 case spike
KIRO 7 TV (CBS)
After moving massive amounts of snow and ice, crews set to reopen Stevens Pass
Seattle mayor vows change on police ruses after police use fake radio chatter
Your trash service could be delayed even longer thanks to an out-of-state strike
Kittitas County: State DOT refused help in clearing roads
Bill hardening penalties for election worker harassment OK'd (Frockt)
New Seattle mayor issues executive order about evictions, uncertainty during pandemic
KNKX Public Radio
Local calls for blood donors grow urgent as shortage persists
Election offices and school board meetings could become weapons-free zones in Washington (Berg, Hansen)
Fact check: Washington state isn't putting people in quarantine camps
Listen: What we can expect from Inslee, Legislature in 2022 session
KUOW Public Radio
Wa Lawmakers Outline 2 Quick Fixes to New Policing Laws (Goodman, Johnson)
Why 2021 was a whale of a year for orca sightings
Covid updates for today: The myth that coronavirus strains get milder
Sen. Patty Murray on her push for voting rights and the future of democracy
What are we willing to do to protect Southern Resident orcas?
Washington state lawmakers propose year-round standard time to get around Congress (Hunt)
KXLY (ABC)
Fires, drought, and heat cost the Northwest billions in 2021
FACT FOCUS: Washington state isn't changing quarantine rules
NW Public Radio
5 Things To Know About Washington's 2022 Legislative Session (Johnson, Carlyle)
A Paid Holiday In March? It'd Be Women's Suffrage Day If Washington State Lawmakers Vote Yea (Lekanoff)
Q13 TV (FOX)
Mayor Harrell extends Seattle eviction moratorium
Kittitas County says WSDOT refused county's snow removal assistance for not mandating vaccine
Web
Crosscut
WA troopers still more likely to pull over Native American drivers (Valdez)
MyNorthwest
State Board of Health will not yet make a decision to require COVID vaccine for students
Seattle-area trash service could be delayed longer due to out-of-state strike
Kittitas County says WSDOT refused help for clearing snow over lack of vaccine mandate
COVID cases in Seattle schools skyrocket, as cancellations, remote learning shifts mount
Mayor Harrell extends Seattle eviction moratorium another 30 days
The Stranger
As Harrell Extends Seattle's Eviction Moratorium, Cracks Begin to Show in the Statewide Eviction Prevention Programs
---