Reforming our state's criminal sentencing system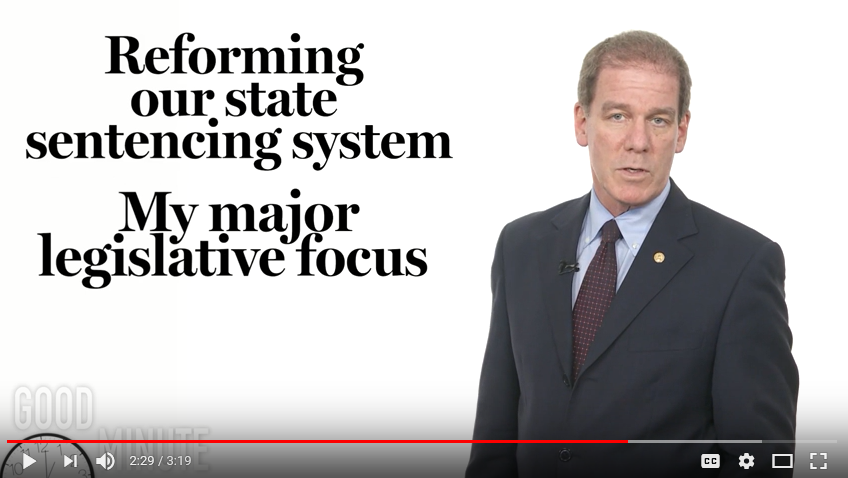 The United States incarcerates more people than any other nation in the world.
As of 2016, over 2.2 million Americans were serving time in prison or jail. While here in Washington, as of last year, more than 19,000 people were being held in state facilities.
Locking people up is expensive and not always the most effective method to deter crime. Yet, our criminal justice system continues to use prison as a one-size-fits all response to crime. Instead, Washington state should be looking at ways to focus on rehabilitation, reentry, and reducing recidivism.
Incarcerating people is too often counterproductive, increasing the likelihood that people will commit further crime, and research shows that community based responses are less expensive and more effective in promoting public safety, as well as being more rehabilitative and humane than prisons.
It's been more than 40 years since Washington state's sentencing laws have undergone a comprehensive review, and it is time to take steps to reduce the complexities and build a sentencing system that works effectively to reduce racial disparities and recidivism, while improving rehabilitation.
Learn more about Washington's criminal justice system and the importance of reviewing and reforming our state's criminal sentencing system in my latest video update.
---
Bills still moving through the legislative process
While the focus at the Legislature recently has been on the budget proposals, legislation is continuing to move through both the House and Senate. Yesterday, the Legislature passed another milestone in the legislative process, opposite house policy cutoff. That means that as of yesterday, bills sent to the Senate from the House had to be voted out of Senate policy committees to continue in the legislative process and vice versa.
A few of the bills I'm sponsoring recently received hearings in the Senate. House Bill 1517, which would require the development and use of new risk assessment methods to help courts and treatment providers make informed sentencing and treatment decisions for domestic abusers, was voted out of the Senate Law & Justice Committee last month and recently received a hearing in the Ways & Means Committee. The new treatment-oriented approach will help reduce repeat offenses by domestic abusers, provide both victims and offenders with meaningful answers about what works, and close critical safety gaps.
A juvenile justice reform bill that I sponsor also had a hearing in the Senate. House Bill 1646, which would allow youth convicted in adult court of certain crimes committed while under 18 to stay in a juvenile rehabilitation facility until the age of 25, was recently voted out of the Human Services, Reentry & Rehabilitation Committee. The bill is scheduled to be heard in the Senate fiscal committee, Ways & Means, tomorrow.
Another bill I'm sponsoring, House Bill 1048, is also now in the Senate Ways & Means Committee after being passed out of the Law & Justice Committee last week. The bill streamlines the small claims court process and makes it easier to claim a judgement, which would make small claims court a viable option again for people looking for a low-cost option to settle legal disputes without a lawyer.
House Bill 1465 was also voted out of the Law & Justice Committee last week. The bill closes a loophole in our state's law created by the FBI plan to discontinue courtesy National Instant Criminal Background Check System (NICS) checks for concealed pistol license (CPL) holders. Now, CPL holders will have to wait for a local law enforcement background check before a dealer can transfer a pistol.
In addition to my prime sponsored bills that are still alive, a few of the Senate companions to my bills have also continued to move through the legislative process. Senate Bill 5508 (companion to HB 1464), which clarifies background check requirements for CPL applications, was passed out of the House Civil Rights & Judiciary Committee last week. Senate Bill 5429 (HB 1246), which includes referred and diverted youth in establishing community juvenile accountability program guidelines, and Senate Bill 5437 (HB 1351), which expands eligibility for the Early Childhood Education Assistance Program (ECEAP), are now being considered in the House Appropriations Committee after being voted out of the Human Services & Early Learning Committee last month. Finally, Senate Bill 5012 (HB 1077), which would ensure governmental continuity during periods of emergency, is scheduled for a public hearing in the Appropriations Committee tomorrow, after being voted out of the House Housing, Community Development & Veterans Committee.
---
As always, feel free to reach out if you have questions, comments, or ideas!
All best wishes,



Roger Goodman
Representative, 45th District
Washington State Legislature
---