Small businesses will get help equipping employees with the skills they need to do their jobs better under a bill by Rep. Drew Hansen that was signed into law by Gov. Inslee today.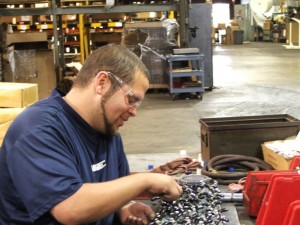 House Bill 1247 makes it easier for small businesses to work with community colleges to help employees upgrade their skills. The bill expands small- business access to the state Job Skills Program, where employers partner with community colleges to train employees, and ensures that money from this program supports training that leads to degrees and credentials rather than dead-end jobs.
"We need to help people upgrade their skills so they can stay current in a fast-changing economy," Hansen, D-Bainbridge Island, said. "This bill helps small businesses work with community colleges to make sure their employees are well-trained so they can stay and grow in their jobs."
The bill passed both House and Senate unanimously.
"Small businesses are vital to the success of local communities and our entire state's economy," said Marty Brown, executive director of the State Board for Community and Technical Colleges. "This new law will ease the cost of customized employee training through community and technical colleges. Businesses will become more productive and competitive, and employees will have the chance to learn and grow professionally. This law comes at a perfect time for our rebounding economy."
Sen. Barbara Bailey, R-Oak Harbor, sponsored a companion measure, Senate Bill 5560. Bailey spoke in favor of Hansen's bill on the Senate floor.
---