Monica Stonier
During an election year, there are certain restrictions on my communications to prevent the use of state resources for election purposes. One of these restrictions is a freeze on this website, meaning no new content can be added beginning May 14, 2018, until after the general election in November. If you have questions or comments about legislative issues, please feel free to continue to contact me.
Biography
Monica sees public service as a calling and a responsibility. She decided to run for office because she is passionate about keeping Clark County a great place to raise her family. Monica believes a good Representative is one who listens to the community and makes decisions based on that two way communication, advocates for ALL community members, and works toward an effective government and respectful debate.
Born at Edwards Air Force Base in California, Monica comes from a strong military family and believes we must honor our veterans for their service. She moved to Washington while in high school, earned her bachelor's degree from Western Washington University and her master's degree from Washington State University Vancouver.  She is proud of her Mexican-American roots and has Japanese-American uncles who fought in the 442nd Go For Broke Infantry in WWII.
Professionally, Monica works as an instructional coach at Pacific Middle School in Vancouver. Previously she was a middle school teacher. She believes that today, we are educating workers for jobs we cannot even imagine.  Her professional work reflects her belief that the priority of public education should be to teach kids to think critically, not just pass tests. After working in a school and watching families grow in this community, Monica sees firsthand the need for stronger partnerships between jobs in our community and work force training and education.
Monica and her husband Brandon have been married for 15 years and now have two children who attend public school in Vancouver. She enjoys the outdoors, coaching youth sports, reading and spending time with her family and friends.
News
Videos
1.20.18 – The #MeToo and #TimesUp movements have sparked a long overdue conversation about sexual harassment and abuse in the workplace. State legislatures across the nation are examining their workplace policies and practices, and taking steps to ensure all employees are safe at work.
Here in Olympia, the House approved House Concurrent Resolution 4413, which will create a Unified One Table working group. This working group will help the House and Senate reshape our policies and practices so that lawmakers, legislative staff, lobbyists, reporters, and guests are safe from harassment while at our state capitol.
---
1.19.18 – Last night, the Legislature finally approved a much-needed capital budget on a strong bipartisan vote. The state's capital budget is one of the best budgets for Clark County that we've seen in a long time.
Investments in the Clark County Historical Museum, the WSU Vancouver Life Sciences Building, and Bridgeview Education and Employment Resource Center are long overdue.
---
Bill Blog
Email Updates
What a 'Families First' budget looks like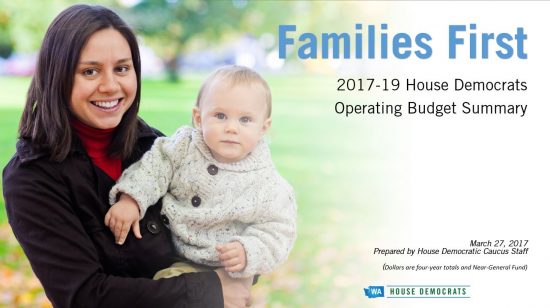 Families first.
That is the driving principle behind the House Democrats' proposed budget. People in Vancouver have asked us how we can improve education, make college affordable, create thriving communities, protect our environment and increase access to quality health care.
For the past year, I have talked about the need for a responsible budget that funds our schools without slashing crucial services, and without further cutting programs that grow our economy.
The House Democrats' proposed  budget fully funds education by investing $7.1 billion in additional dollars for our K-12 schools over the next four years.
We invest in high-quality teachers in every classroom, give students the education they deserve, invest in other crucial school staff and programs, and keep our promise to fully fund education.
Our 'families first' budget makes key investments in early learning, higher education, critical human services, housing, mental health, civil legal aid, and quality care for our aging population and people with developmental disabilities.
We're investing in a future that keeps Washington a great place to live, work, and raise a family.
We have known all along that there wasn't enough revenue to create an exceptional education system without cutting some or all of the critical state services. In addition to deep cuts to state services, Senate Republicans proposed a $5.5 billion property tax to fund their budget.
Our progressive revenue plan cuts the B&O taxes for 80% or our businesses, while improving the fairness of our tax system to make these needed investments. You can read more about our revenue package here and here.
And based on the survey results you submitted a few weeks ago, it looks like the vast majority of our community supports progressive tax reform that provides small business tax relief, eases the burden on families, and fully funds our K-12 schools.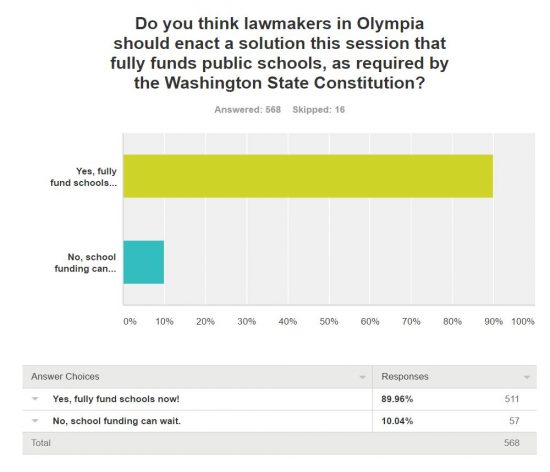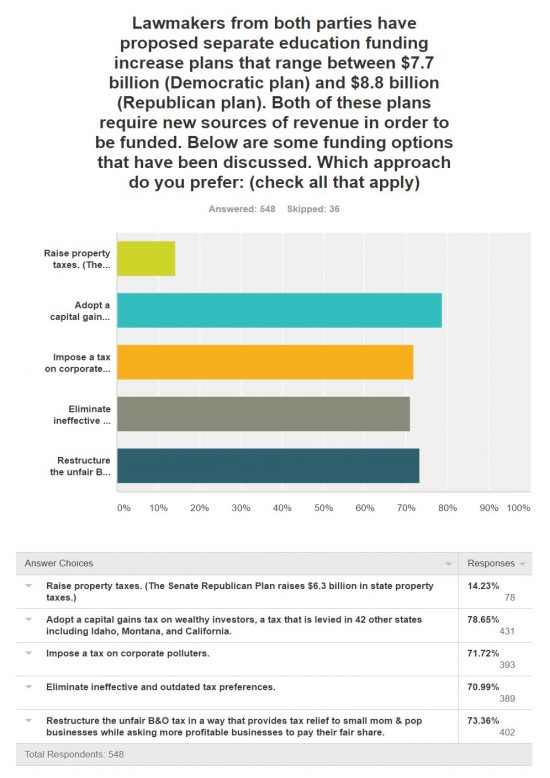 Now that both chambers have introduced budget and revenue plans, both sides will start negotiating a compromise solution to send to the Governor. I remain committed to supporting your values and the values of Washington throughout the negotiation process.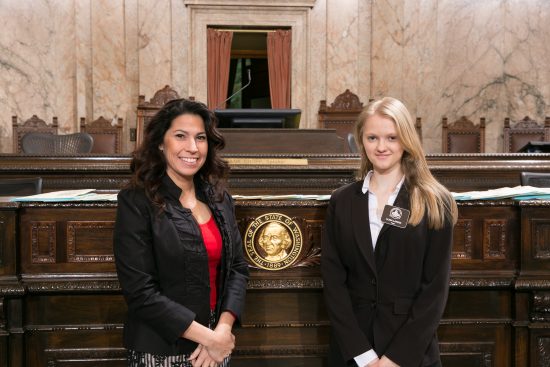 Thank you so much to Alina from Henrietta Lacks High School in Vancouver for being a part of the Page Program! It is so great to see high school students from home active in the Legislature!
---
Urgent action needed on school funding!
Your Voice in Olympia
I am extremely pleased and honored to once again be serving as a voice for Southwest Washington in the state Legislature. Thank you for giving me this opportunity! As your state lawmaker, I will be focusing on policies that:
Ensure every student has opportunities to learn.
Create more pathways that lead to successful careers after graduation.
Expands economic prosperity to more families in our community.
Provides the proper care and treatment to those suffering from a mental illness.
Again, thank you for the opportunity to represent you in Olympia.
Urgent action needed on school funding!
The House of Representatives voted on its first bill of the 2017 Legislative session this week – HB 1059. You may have heard this referred to as the "Levy Cliff" bill. In short, public schools will lose roughly $358 million in funding for the 2017-18 school year unless lawmakers act soon.
How will this impact our community? Vancouver school district stands to lose $2.6 million. And Evergreen School District – $4.5 million.
Click here for a more detailed explanation of the levy cliff bill. It's time for the Legislature to step up and fully fund education!
Although this bill passed the House with bipartisan support, early indicators suggest that the Republican-controlled Senate will not bring the bill up for a vote. If that's the case, teachers will receive layoff notices in the coming weeks and crowded classrooms will become even more crowded.
Students deserve stability in their schools. Passing this bill makes sure that school districts aren't held hostage while the Legislature finds long-term solutions to the school funding problem.
Honoring Dr. King
I was honored to speak on the House floor last week to honor Dr. Martin Luther King, Jr. Dr. King's message is just as important today as it was during the Civil Rights Movement.
My message on the House floor was a simple one: Dr. King's fight for equality and justice continues today, especially in our schools. Every child has potential, but only if they're given support throughout their entire learning path. Too many children in Washington state fall behind because they aren't given the same opportunities and the same resources as children in wealthier communities.
Dr. King would want us to act to make equality and justice a reality for all of God's children.
(Click here to watch my speech.)  
Keep in Touch
I am here to serve you. Your feedback is important to me. Please call, write, email, or visit with your questions, comments, or concerns.
Monica
---
Contact
Vancouver Address:
1104 Main Street
Suite 550C,
Vancouver, WA 98660
(360)690-4700
Olympia Address:
JLOB 331
PO Box 40600
Olympia, WA
98504-0600
(360) 786-7872
Legislative Assistant:
Sarah Kohout

Toll-free Hotline:
1-800-562-6000
1-800-635-9993 (TTY)
Committees:
Education (Vice Chair)
Capital Budget
Health Care & Wellness
Rules
For Press Inquiries:
Andy McVicar, Deputy Communications Director
(360) 786-7215
Andrew.McVicar@leg.wa.gov
For broadcast-quality audio or TV/radio interviews:
Dan Frizzell, Broadcast Coordinator
(360) 786-7208
Dan.Frizzell@leg.wa.gov
---