Why I march on MLK Day in Seattle
It's a moving sight. Thousands of people, stretching block after block in Seattle's Central District, of all backgrounds and ages, marching in the spirit of racial solidarity and the unfinished work of Martin Luther King Jr. Seattle's MLK march — now in its 38th year — challenges us to answer the call to make the national holiday a "day on, not a day off." Not a day for shopping or TV binges, but a day to reflect and act. Continue reading at The Seattle Times. (Steve Ringman / The Seattle Times, file)
---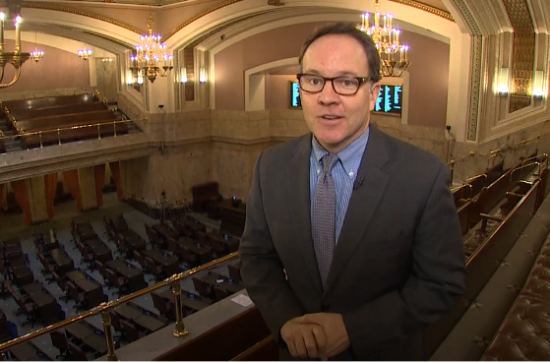 10 bills to watch in the 2020 Washington Legislative session
The Washington state legislature starts this week, and lawmakers have already gotten a head start on new legislation. Democrats and Republicans both plan on introducing healthcare, gun control, and other hot topic legislation as the 2020 presidential election looms. While it's still too early to say what will thrive and what will die when lawmakers dip their feet into the paper pool, here are a few bills to keep an eye on this legislative session. Continue reading at King5 News.
---
2019 saw fewer passengers on Washington State Ferries
The Washington State Ferries saw ridership fall 3.2% last year, held down by February's snowstorm and ongoing waterfront construction and alternative ferry service from Kitsap Transit. The Seattle Times reports that State Ferries tallied 23.9 million passengers in 2019, down about 800,000 from 2018. Despite the decrease, officials said there's no cause for concern. Continue reading at Go Skagit.
---
Print
Associated Press
Storms cut power in Washington state mountain towns for days
State challenges extensive spending by bankrupt Tim Eyman
Attorney general's office dismisses parent complaint (Pedersen)
Shea decries report saying he engaged in domestic terrorism (Jinkins)
2019 saw fewer passengers on Washington State Ferries
Report: Oregon marijuana sales 420% stronger near Idaho
Attorney general's office dismisses parent complaint (Pedersen)
LGBT activists say new bills target transgender youth
Washington state can't tell if housing tax exemption working
Washington Rep. Matt Shea decries finding of investigation (Jinkins)
Justices to consider faithless electors, ahead of 2020 vote
Ridership on Washington State Ferries drops 3.2% in 2019
Aberdeen Daily World
State approves a six-day razor clam dig starting Tuesday
Stadium back on ballot in Elma School District
Auburn Reporter
Proposed law adds a fee to plastic bags at checkout (Das, Carlyle, Kuderer)
Wilson bill would prohibit solitary confinement of youths (Wilson)
Stokesbary introduces comprehensive legislation to combat homelessness
Bellingham Herald (subscription required)
'Tears of joy' as homeless encampment learns Bellingham will look for a new site
Here's the next step for the proposed renewable diesel plant near Ferndale
Bothell Reporter
Proposed law adds a fee to plastic bags at checkout (Das, Carlyle, Kuderer)
Capital Press
Trump takes victory lap at Farm Bureau convention
Chinook Observer
How did my state lawmakers vote in Olympia? (Jinkins, Chopp, Takko)
Columbian
Washington workers adjusting to life at $13.50
In Our View: Immigrant population valuable to Washington
In Our View: Cheers & Jeers: School upgrades good, power cuts not so much
In Our View: Easing ban on dog breeds nothing to sniff at
The Daily News
Capitol Dispatch: Local lawmakers expect major transportation budget adjustments (Takko, Blake)
Committee meeting Tuesday to discuss homeless camp site alternatives
Women's march Saturday draws crowd, two generations of women leaders
Everett Herald (subscription required)
In Olympia, they're recycling bills and reusing plastic bags (Hobbs, Takko)
Out of sight, illegal marinas grow into hazard on Snohomish
No more 'black boxes' in patrol cars, new sheriff says
Lawmakers brace for political battle over bullets and AR-15s (Kilduff, Peterson)
Cornfield Report: Civil rights and gun rights are on lawmakers' minds today (Lovick)
Snohomish County has third flu death; new cases decline
Nurses, caregivers announce strike at all Swedish branches
A nuclear research facility is about to open in Everett
Commentary: The man who counseled King
Commentary: Continuing King's final campaign against poverty
Editorial: Cutting carbon emissions up to lawmakers — and us
WaPo: Supreme Court to hear Washington case of 'faithless' electors
Issaquah Reporter
Chamber hosts annual address for community stakeholders
Proposed law adds a fee to plastic bags at checkout (Das, Carlyle, Kuderer)
Kitsap Sun (subscription required)
Nimitz at sea: For warship, a tight fit into and out of Puget Sound
Logistics expert: Proposed warehouse in Bremerton is 'definitely' Amazon delivery facility
Kitsap to conduct annual point-in-time homeless count this week
Poulsbo moves toward banning plastic bags as legislators consider statewide ban (Randall, Bremerton, Rolfes, Sheldon)
Bishop Larry Robertson, who founded Emmanuel Apostolic Church, has died
Most Kitsap families now on board with new measles vaccine rules
Montesano Vidette
Coastal Caucus talks transportation, schools at 2020 legislative send-off (Van De Wege, Takko, Chapman, Tharinger, Blake)
News Tribune (subscription required)
Should breakfast be served in classrooms? Some Tacoma schools have started
New York Times
Democrats seek more testimony and evidence for impeachment trial
Rural Montana had already lost too many native women. Then Selena disappeared.
Supreme Court to Consider Limits on Contraception Coverage
Court Quashes Youth Climate Change Case Against Government
Olympian (subscription required)
Embattled Rep. Matt Shea grabs the spotlight at Capitol gun rights rally
Peninsula Daily News
A good day for marching in Port Townsend
Opinion: Jefferson County a 'daycare desert'
Puget Sound Business Journal
If T-Mobile merger doesn't happen, Sprint will 'go down pretty hard'
Opinion: Brace for a market correction in 2020
UW seeks developer for first building in innovation district
Kaiser Permanente unveils details of $1 billion investment in Puget Soun
Seattle Times (subscription required)
Ishisaka: 'Change might be more possible than we realize': Why I march on MLK Day in Seattle
As smaller Washington cities grapple with homelessness, Republicans take up the issue in the state Legislature (Macri, Kuderer)
Spendy dinners and $79 haircuts: Tim Eyman isn't living like someone who's bankrupt, AG says
Washington may mandate 'comprehensive' sex education for all public schools. What does that mean?
Here's what's open, closed on Martin Luther King Jr. Day
'We were before our time': Remembering the fight to change King County's namesake from a slave owner to a civil-rights leader
Commentary: Online dating has enough problems without adding fake AI-generated people
Stateline: Electric cars: an asset to states' power grids, or a liability?
As insulin prices soar, Washington lawmakers weigh price caps and importing drugs from Canada (Keiser)
Seattle Weekly
King County could bump up Metro electrification deadlines
Republicans try to guarantee $30 car tabs amid court hangup
Shoreline Area News
Rep. Pollet working to bring financial accountability to out of compliance special purpose districts (Hudgins, Pollet)
Skagit Valley Herald
Sedro-Woolley School District taking levy request to voters
Lawsuits stack up over state's timber plans
Washington state can't tell if housing tax exemption working
Tri-City Herald
Gun rights advocates rally in Richland over proposed restrictions
Franklin commissioner rallies support for lawmaker who's labeled a domestic terrorist
Guest Opinion: Who was the man called King?
Editorial: Tri-Cities road safety projects should not be held hostage by the state
USA Today
Martin Luther King Jr.'s son still works to achieve the dream: 'The work is nowhere near complete'
Walla Walla Union Bulletin (subscription required)
Capitol Dispatch: Local lawmakers expect major transportation budget adjustments (Blake, Takko)
Editorial: Pragmatism needed in setting carbon-emissions rules
Washington Post
Virginia gun rally live updates: Under heavy security, massive gun rights demonstration begins peacefully
Puerto Ricans still waiting on disaster funds as Hurricane Maria's aftermath, earthquakes continue to affect life on the island
Wenatchee World
Apartment complex with 455 units proposed for Wenatchee's riverfront
Washington may mandate 'comprehensive' sex education for all public schools. What does that mean, and other FAQs.
As smaller Washington cities grapple with homelessness, Republicans take up the issue in the state Legislature (Macri)
Inslee moves to permanently ban flavored vaping products (Saldaña)
Groups poised to sue Yakima County over alleged violations of Voting Rights Act
Yakima Herald Republic
Will you be my sub? State-backed child care substitute pool aims to support providers in Yakima, beyond
Editorial: New overtime rules must change to become less of a burden to rural Washington
Broadcast
KING5 TV (NBC)
10 bills to watch in the 2020 Washington Legislative session (Keiser)
Lawmakers propose sweeping reform for special purpose taxing districts after KING 5 investigation (Takko, Carlyle, Pollet, Hudgins)
Public to give testimony on several gun-related bills in Olympia
Part of Tacoma park expected to re-open after homeless sweep
State challenges 'extensive spending' by bankrupt Tim Eyman
KIRO7 TV (CBS)
Ban on assault-style weapons, high-capacity magazines being discussed in Olympia this week (Hansen)
They pulled 9 Lime scooters out of Commencement Bay. Now they want answers and solutions
Rep. Wilcox faces threats, gun rights advocates celebrate Matt Shea
KOMO4 TV (ABC)
New wave of gun control legislation arrives to state Senate
Tacoma vape shop fears permanent 'kill all' law after losing $1 million
Where to volunteer and march on MLK Day
KNKX FM
County Council member criticizes bill seeking to remove Pierce County from Sound Transit 3
Proposed bill would require comprehensive sexual health education in public schools (Stonier, Tomiko Santos)
Washington lawmakers, health advocates hope to permanently ban flavored vaping products
Lifting away the burden of legal debts helps make it possible for people to build new lives
Immigrants Nervous To Show Up In Washington Courthouses Over Fear Of Federal EntanglementKUOW FM
State Supreme Court hobbles Inslee climate-pollution rule
What's in your wallet? It's time for air travelers to get real about Real ID
 
Public News Service
WA Lawmakers Seek Solutions to Soaring Prescription Costs (Keiser)
 
Q13 TV (Fox)
The Divide: Shea Supporters
Web
Crosscut
How this 'preacher of the arts' plans to save Cornish College
Iranian in America: Immigrants share their hopes, fears and frustrations
Slog
Slog PM: Bald Eagle Dies, Matt Shea Crows, Queen City Closes
8,000 Swedish Nurses Announce Pending Three-Day Strike
---