Rep. Stanford's e-memo for March 23
March 23, 2011 | By Washington House Democrats

Dear Neighbors,
Over the past two weeks we have seen dramatic videos of the earthquake and tsunami that have devastated Japan.  I've been horrified by the terrible loss of life, the pictures of once-thriving communities reduced to rubble, and the fear that an already-unimaginable situation could become much, much worse.
But I've also been moved by the images of miraculous rescues, of courageous workers putting themselves at risk trying to avert a nuclear meltdown, and of communities pulling together in a time of crisis.   The resilience of humans – and of humanity –has truly been demonstrated these last few days.  I know many of you have been greatly moved by this tragedy, too.
If you would like to support the ongoing relief efforts in Japan, please visit https://seattlejapanrelief.org/.
Also, some of you may be worried about the possibility of leaking radiation reaching our shores.  The Department of Health routinely monitors air samples for radiation around the state. Since last Friday when the reactors in Japan began to fail, they've stepped-up our air monitoring and have seen no readings above what is normal for our state.  If you would like more information about this, the Department of Health has a list of frequently asked questions at:  https://www.doh.wa.gov/Topics/japan-faq.htm
Town hall meetings
Thank you to everyone who came out to the 1st District Town Hall Meetings last week. These were my first town halls as a legislator, and it was a great experience to hear personally from hundreds of constituents. The clear message from our citizens was that while serious cuts need to be made, we must continue to fight to protect our public education system and social safety net.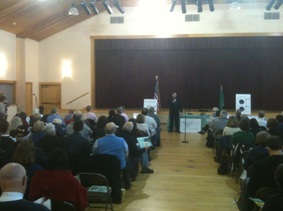 I heard your message loud and clear and will amplify your voice to my colleagues here in Olympia.
Revenue forecast will force more budget cuts
The latest revenue forecast was released last week and, as expected, it provided a sobering but somewhat hopeful view of our economic outlook.  Dr. Arun Raha, our state's chief economist and Executive Director of the Economic and Revenue Forecast Council, predicted that revenue for the next two fiscal years (the 2011-13 biennium) will be $698.4 million less than previously thought, but that the economy is starting to slowly improve.
That means that the next biennium's shortfall between revenue that is expected to come in and the amount necessary to maintain the state budget at its current level has increased to about $5.4 billion. Keep in mind that the "current level" has already been reduced by $5.1 billion in cuts and savings to every area of state government including natural resources, health care, corrections, education and general government.
At the council meeting, Dr. Arun Raha made the following statements:
There is still a high degree of uncertainty associated with this forecast, including the tragedy in Japan and the political unrest in the Middle East.
Gas prices are rising – the forecast assumes higher prices.
Construction employment is still very low and is dragging down the state's economy.
On-line sales have been growing, causing even more leakage in the state's revenues.  The Department of Revenue estimates that we will lose $740 million in revenue in the 2011-13 biennium – more than the enough to compensate for the lower forecast.
This forecast does assume the Boeing tanker deal, but the bulk of the impact won't be seen until after next biennium.
It's hard to imagine the enormity of this challenge.  Look at these numbers:
We could cut our entire public higher education system – all six of the four-year institutions and all 34 of the two-year community and technical colleges – and we'd solve just about 50% of the shortfall.
We could close down our entire state corrections system – all nine prisons, three minimum custody camps, and fifteen work release centers – and we'd solve about 33% of the shortfall.
We could eliminate all state environmental efforts – all programs to promote clean air and water, clean up pollution, encourage conservation, and preserve our natural resources – and we'd solve less that 10% of the shortfall.
We could take ALL of these actions and still would not balance our budget.
It will take a lot of work to meet this challenge, but it's our job to make responsible decisions for these tough times.
Fast fact:  The Washington state budget is less now, on a per-person basis, than it has been since 1986!
State unemployment numbers drop slightly
There was a little bit of good news this week, though. The state's Employment Security Department released its latest jobs report showing another slight decline in unemployment from 9.2 percent in January to 9.1 percent in February. This is a significant improvement from last February when unemployment was 10 percent.
The most significant gains were in the construction industry, welcome news for a group of workers hit hard in the aftermath of the recession.
This chart shows how Washington state's unemployment rate has compared with the rest of the country during the Great Recession.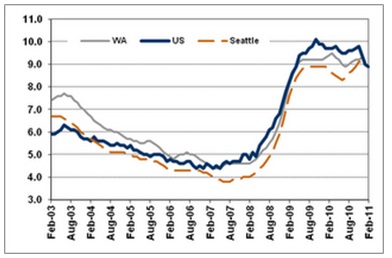 If you weren't able to attend the town hall meetings but would like to meet with me during or after the legislative session, please send a request to my Legislative Assistant at Ehsan.Aleaziz@leg.wa.gov and I will make sure you have a chance to make your voice heard. As always, don't hesitate to call my office or send me an email to share your thoughts.