Rep. Mike Sells – Legislative Update, Jan. 18, 2013
January 18, 2013 | By Washington House Democrats
Our first week in the legislature was packed with work sessions that included updates and accountability reports from agencies. In the Labor and Workforce Development Committee that I chair, the issue of jobs is always foremost. Our Workforce Training and Education Coordinating Board reported on efforts of our community colleges to make sure our citizens have access to job training that fits the needs of workers and employers.  You can check out online some of those programs in our area like the Aerospace Joint Apprentice Committee that works with Everett CC or the Washington Research and Training Center at Paine Field administered by Edmonds CC. 
The Governor's Aerospace Council developed a budget proposal that would invest in much needed machinist, technology and engineering training. Since one of Washington's strongest suits in remaining competitive in aerospace is its educated workforce, these investments are necessary to keep our workers employed and our community, as well as the entire state, competitive.
___________________________________________
Budget picture
While the overall economic picture in our state is improving, the legislature will still have to resolve a projected shortfall in the state budget about $1.4 billion.  We ended last year's session with a balanced budget, but since then the revenue we've taken in has not equaled the cost of operating our schools and colleges, prisons, and safety net programs. 
Additionally, a year ago the state Supreme Court ruled the legislature is not fulfilling its constitutional duty to fully fund basic education (known as the McCleary decision). While the House has led the way in recent years on educational reforms that put us on the path to fully funding education, this year we'll need to devote an estimated $1.4 billion in funding for our public schools to keep us on the right track and comply with the Court's order.
That's a hole of at least $2.8 billion in the next two-year budget – on top of the $12 billion we've already reduced state services the last few years. 
I'd like to hear your thoughts about the state budget and education funding.  If you have ideas, please take a moment to send me an email. Your feedback is crucial as I establish my priorities this session and work with my colleagues to solve these important issues.
___________________________________________
Flu season is upon us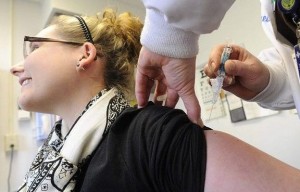 Winter is peak flu season in our state, and this year's strain of the flu appears to be nastier than last year's. One of the best ways to protect yourself, your family, and your coworkers is to get a flu shot, and it's not too late to do it if you haven't already. The state Department of Health has online information about where to get a flu shot, and other flu-related information.
Traveling to another part of the country?  Check out flu activity for all 50 states to know what the situation is like where you're going.
___________________________________________
The best way for me to do my job is by hearing from you, so please send me a note, give me a call, or stop by my office if you're in the Olympia area. My Legislative Assistant, JoAnn Chapman, takes care of scheduling my days and she makes sure I get all my messages.  
   Read the House Democrats blog, The Advance.
  Follow the House Democrats on Twitter.