E-newsletter: Putting Washington's "Families First" and Impaired Driving
April 6, 2017 | By Washington House Democrats
House unveils a 'Families First' budget
Families first.
That's the driving principle behind the budget that the House passed last week. People across the state have asked us how we can improve education, make college affordable, create thriving communities, and increase access to quality health care. The House budget meets all of those needs.
The two-year budget passed by the House last week fully funds education by investing in our classrooms, our teachers, and our kids. This budget invests $7.1 billion in additional funds for our K-12 schools. We invest that money in putting high-quality teachers in every classroom, giving students the education they deserve, and keeping our promise to fully fund education. And we end the local school district reliance on levies to make up for funding shortfalls.
Education is our primary focus, but it's certainly not our only focus. Our 'families first' budget makes key investments in early learning, higher education, critical human services, housing, civil legal aid, and quality care for our aging population and people with developmental disabilities.
We're investing in a future that keeps Washington a great place to live, work, and raise a family.
You can read more about our budget proposal here.
The House budget stands in stark contrast with the Senate budget, which slashes housing services for homeless youth & families, raises college tuition, and rejects the $1 billion in federal Medicaid funding for health care.
So what's next? Since both chambers have passed their respective budget plans, negotiations are now underway to craft a compromise solution to send to the Governor. I remain committed to supporting your values and the values of Washington throughout the negotiation process.
Keeping Washington's roads safe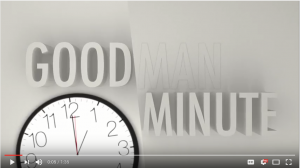 Drunk driving is one of the most serious chronic problems in our society and can have a devastating effect on families and communities. I've been working for a decade now to strengthen our DUI laws, and while our state has made considerable progress, there is always more to be done to close loopholes and continue to work to keep our communities safe.
To address the continuing problem of drunk driving, I've introduced HB 1614, which will strengthen Washington's impaired driving laws, focusing on repeat offenders.
Learn more about Washington's DUI laws and how my bill will help close loopholes, hold repeat offenders accountable, and make our communities and roads safer in this week's GoodMinute.
All best wishes,



Roger Goodman
Representative, 45th District
Washington State Legislature