Hello, and thank you for visiting my website.
Now that election season has ended, lawmakers are once again able to add new material to their websites.  I'll be updating this over the next few days.
In the meantime, if you need information or have a legislative issue, always feel free to contact me with your requests and concerns and either I or my legislative aide will return your call, email, or letter promptly.  This information might be helpful:
It's an honor and a privilege to serve you, so please don't hesitate to get in touch!
Sincerely,

______________________________________________________________________
August 6, 2015
Washington House Democrats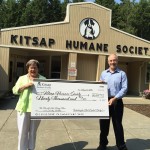 SILVERDALE — State Rep. Sherry Appleton visited the Kitsap Humane Society (KHS) this week to present them with a ceremonial check symbolizing a $90,000 state grant for a new puppy room. KHS, now in its second century of operation, is one of the largest and busiest no-kill animal shelters in the western U.S., and the area dedicated to their youngest charges has seen better days.  The funds from the recently approved capital budget will help the shelter upgrade its puppy … Continue reading →