April 3, 2015
Rep. Steve Tharinger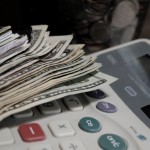 The Budgets Are Out! I have had very busy week in the Appropriations and Finance committees, both which I serve on, considering bills that affect our state budget.  I wanted to take this opportunity to update you on how the House and Senate budgets compare with each other. Sustainable responsible budget vs. one-time transfers and budget tricks We have come a long way since the deep cuts the legislature made during the Great Recession. And we have a … Continue reading →
March 26, 2015
Rep. Steve Tharinger
Below you'll find a recording of the 24th Legislative District Telephone Town Hall from Monday, March 23, with Reps. Tharinger and Van De Wege.
March 13, 2015
Rep. Steve Tharinger
Legislative Update-March Edition: Part Two! House of Origin Deadline The House of Origin deadline ended on March 11th.  All House legislation must pass to the Senate in order to remain an active bill.  Once the House bills are in the Senate, the bill process starts all over again.  Once again, I would like to take this opportunity to discuss other legislative updates with you. The Equal Pay Opportunity Act Passes the House! For years, reports and studies have told us … Continue reading →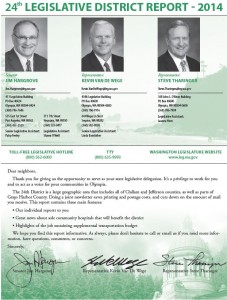 2014 Legislative Report
Feb. 22 speech on the House floor: Rep. Tharinger says women, not bureaucrats, should be able to make their own decisions about their bodies, their healthcare, and their lives.