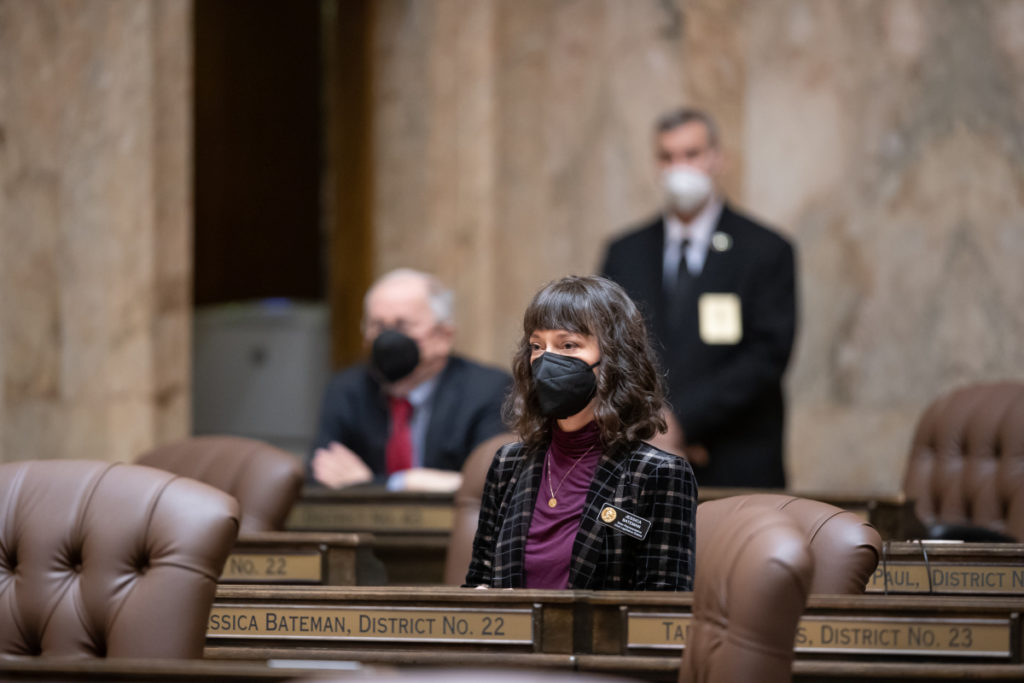 Dear friends and neighbors, 
This was the first remote session in our state's history–and many of us, myself included, were not sure how it would work. Before it even began, our state was looking at $9 billion in budget cuts due to the COVID-19 pandemic and recession. 
I am happy to report that while this session was different, we not only managed to get through it-we made historic investments in programs that will help Washingtonians. Together, with your support, we passed landmark legislation on climate change, housing, police accountability, and other issues.  
And instead of $9 billion in cuts to essential services like health care and education, a rebounding economy and federal aid helped us write and pass budgets that made crucial investments in housing, health care, broadband internet, and COVID-19 aid.   
In this e-newsletter, I want to share some of the highlights of the session and provide an update on housing issues and the legislation that I introduced. 
In later updates, I'll tell you details about what happened on public safety and police reform, climate change and the environment, transportation, the operating budget, and other key issues. 
Putting people first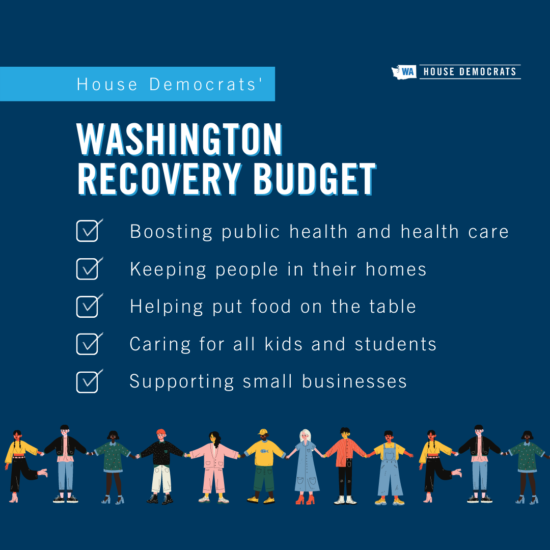 To give people help quickly, I voted in favor of one of the first bills we considered, Step One for Washington's Community and Economic Recovery. This legislation provided $2.2 billion in federal funding to help people pay rent to avoid homelessness, improve our health care system in the fight against COVID-19, help small businesses keep the open sign on, and prevent schools from laying off teachers.  
Later in the session, I voted in favor of a state operating budget that put people first: the Washington Recovery Budget. And once again, I want to thank our members of Congress and President Joe Biden for the $4.2 billion in federal aid provided through the American Recovery and Reinvestment Act, because that funding was critically important to the people of our state.  
Another huge victory this session came in the area of tax reform. Washington state has the nation's most regressive and unfair tax structure. Working families pay far more as a percentage of their income than millionaires and billionaires. That's morally wrong and makes no economic sense. I voted for the Working Families Tax Rebate because it will put money back into the pockets of Washingtonians who need it most. One out of four children will benefit from this policy, which is separate from the new child tax rebate from the federal level. These two reforms, together, will help lift so many families out of poverty. 
Legislation I introduced
Adding another judge in Thurston County Superior Court–House Bill 1167 will help give more people access to our system of justice. Here in Thurston County, our population has increased by 40 percent since 1996, the last time the number of judges was increased. I'm happy to say this bill was signed by Gov. Jay Inslee after passing the House 97-0 and the Senate 48-1.  
Long-term care–House Bill 1218 will improve the health, safety, and quality of life for residents in long-term care facilities. This bill passed the House 95-2, passed the Senate 27-21 with amendments, and passed the House a final time 96-2 before being signed by the governor.
Middle-housing–House Bill 1157 is aimed at tackling our housing crisis due to the lack of middle-housing. That's everything in between a single-family home and an apartment building and includes tiny houses, duplexes, row houses, and triplexes. I introduced this legislation to help local governments plan for middle housing and to allow for incentive zones for middle housing within urban growth areas. This bill passed the House 93-4 but did not pass the Senate, so I'll continue working on the policy because this issue is so important. Every family needs a safe, affordable place to live–a home. 
Building a better Washington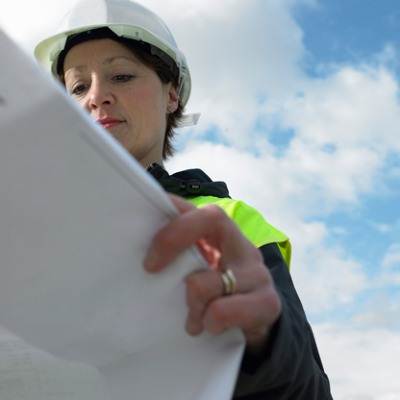 More than a million people have moved to Washington state because of our booming economy. You can see that population growth here in the 22nd District, and all of those new families mean we need to make new investments in infrastructure. 
The two-year construction budget we passed (House Bill 1080) breaks the state record with $6.3 billion in projects across the state.  
I want to highlight the $411 million to boost broadband access, which was shown to be critically important during this pandemic with people working from home and students learning remotely. Fast, reliable internet isn't a luxury today. It's an essential utility like electricity and water.   
The construction budget also invests $1.55 billion for early childhood education, public schools, and higher education. I am happy to report it puts $350 million toward affordable housing and emergency shelters, $81 million for clean energy projects, and $724 million for critical public infrastructure. 
Here in the 22nd District, we received a total of $297.2 million in projects. I don't have room to list them all so I wanted to highlight a few: 
$800,000 for the Touchstone Group Home

 

$2 million for the Olympia Armory transfer

 to the City of Olympia

 

$3.5 million in construction at the Nisqually Indian Tribe

$1.6 million for the 

Hands On

 Children's Museum

 

$500,000 for Harlequin Productions

 

$1.464 million for the Washington Center for the Performing Arts

 

$457,000 to install solar panels at the Capitol Campus Childcare center

 

$1.2 million for the Brewery Park Visitor Center in Tumwater

 

$5 million to renovate the Health Education Building at South Puget Sound College

 

$6 million in capitol campus security and safety enhancements

 

$65.6 million to replace the Newhouse Building on the capitol 

campus

 

$30 million in work at the Temple of Justice

 

$119 million for the Secretary of State Library-Archives Building

 

$3 million to renovate the Seminar I 

building

 at The Evergreen State College

 
Housing update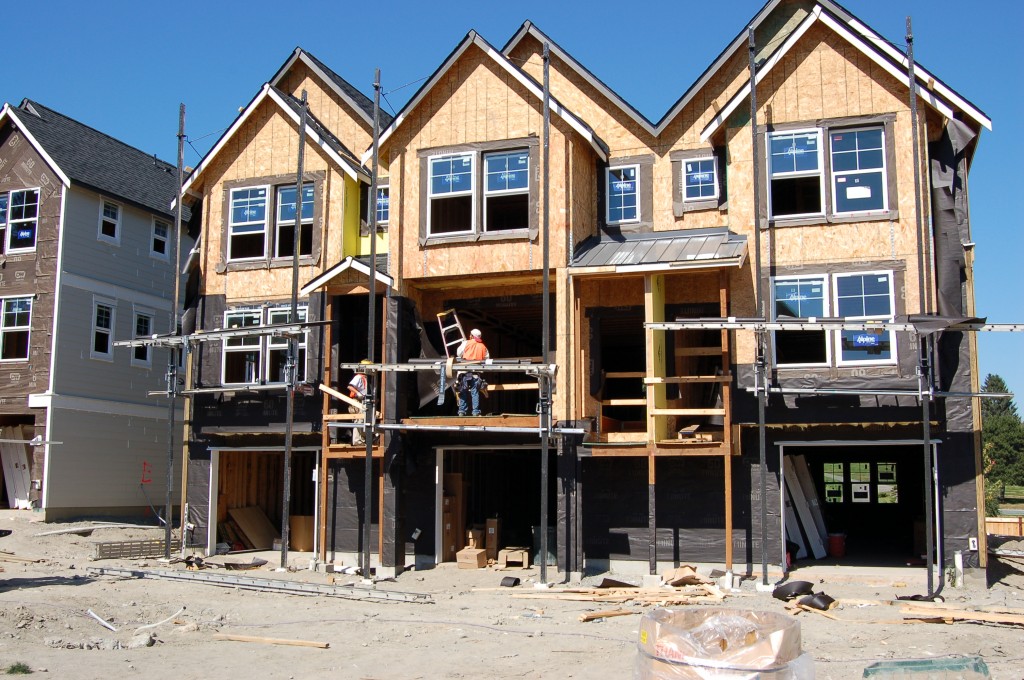 In previous e-newsletters and videos, I gave you reports on a number of bills to address the housing crisis. Here is a quick update on the status of all of those bills. 
Good cause eviction & renter protections–House Bill 1236 establishes a standard of acceptable causes for eviction and closes harmful loopholes in our fair housing laws, because no renter should be forced out of their home without a just cause. It passed the House 54-44, the Senate 28-21 with amendments, and passed the House again 54-44. The governor is expected to sign this soon. 
Planning for affordable housing–House Bill 1220 updates the housing goals of the Growth Management Act to plan for affordable housing. This legislation passed the House 57-39, the Senate 25-24 with amendments, and the House 57-40. It's also on the governor's desk to be signed. 
Protecting renters—Senate Bill 5160 prohibits landlords from charging late fees or other charges for non-payment of rent during this public health emergency, requires landlords to offer tenants a repayment plan, and appoints counsel for low-income tenants. It passed the Senate 29-20, the House 72-26 with amendments, and the Senate 27-22. The governor signed the bill with a partial veto.   
Mobile home tenant protections–House Bill 1083 protects those who live in mobile homes. Tenants are often seniors, the working poor, veterans, and the disabled. It passed the House 98-0 and the Senate 46-0, and the governor signed it into law. House Bill 1100 requires manufactured or mobile home park landlords to provide tenants with the opportunity to purchase. It passed the House Committee on Housing, Human Services & Veterans but did not make it out of Appropriations. 
Dedicated funding for rent assistance–House Bill 1277 creates a critical funding source to prevent eviction for renters. This bill passed the House 57-40, the Senate 26-23 with amendments, then the House 57-39 before being delivered to the governor.   
Keep in touch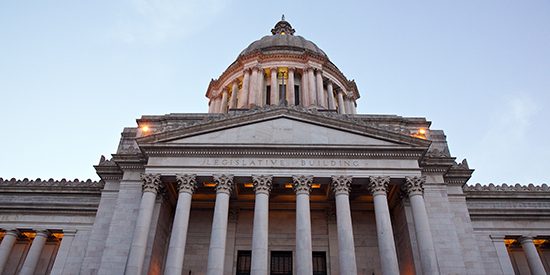 So many of you contacted my office this session, and I appreciated your thoughts as we debated and voted on critical legislation. I'm thankful for your input and advocacy. 
Thank you for taking the time to read this. Please feel free to contact my office if you have comments or ideas! 

---