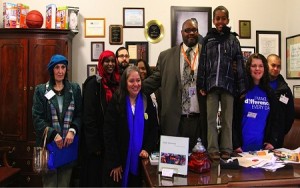 Seattle lawmaker Eric Pettigrew will hold the number three leadership spot within the House Democratic Caucus for the next two years. Rep. Pettigrew was re-elected to his position as chairman on November 16th in Olympia.
Pettigrew has served as chairman for the past two years and is the highest ranking African American in the Washington state Legislature. This year he will begin his sixth two-year term in the House of Representatives.
Raised by his mother in South-Central Los Angeles, Pettigrew has overcome countless obstacles on his road to the state legislature. For Pettigrew, excelling beyond the challenging circumstances of his youth has been a product of family support, determination and education.
"I wasn't supposed to have much of a shot at success- whether it was in education, business or public service," Pettigrew said. "I would have never imagined being selected to lead our dynamic caucus as we make tough decisions about our future. It's a big honor and not one I take lightly."
Pettigrew has worked to increase opportunities for at-risk youth throughout his career. He hopes to continue this important work in the coming legislative session.
---