House Democrats are pleased to welcome nine new members – and one familiar face – to the caucus. Below are excerpts from each of their biographies. Click on the links to learn more about the newest members of the House Democratic Caucus.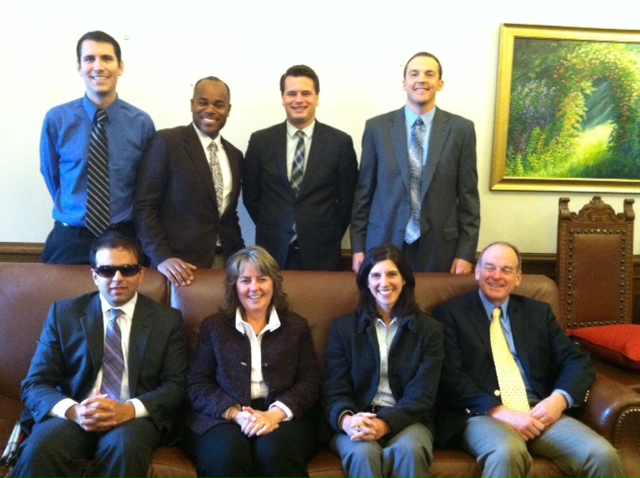 Steve Bergquist (Renton) – Steve is a public school teacher, union member, and small business owner from Renton. He coaches tennis and golf, and, when programs faced elimination from school district budget cuts, he led an effort that raised more than $100,000 over six years to keep programs alive.
Steve co-founded the Seattle Serves non-profit and has rallied hundreds of students to volunteer efforts that include Habitat for Humanity, the Ronald McDonald House, the Renton Salvation Army Food Bank and their annual Toy and Joy, and Thanksgiving Adopt-a-Family drives.
Jake Fey (Tacoma) – Born and raised in Port Angeles, Jake's experience in the YMCA Youth and Government program pointed him early on toward a life of public service. He was the first in his family to attend college, earning a BA in political science from the University of Washington and then an MPA from the University of Puget Sound.
Jake's community involvement and professional life have always focused on the legacy we'll leave for future generations. Big Brothers/Big Sisters and other youth programs are among his top priorities. His leadership skills have been established in managing an alternative-energy and energy-efficiency program with Washington State University, coordinating community-volunteer efforts on the Sound Transit and Pierce Transit Boards, and working on the Pierce County Public Health Board.
He has also served as vice chair of the Puget Sound Clean Air Agency, and as Tacoma's deputy mayor.
Jessyn Farrell (Seattle) – Jessyn worked as the Executive Director of Transportation Choices Coalition, an organization dedicated to expanding bus, rail, bicycle and pedestrian transportation options. Her biggest accomplishment – bringing together transit and road advocates in support of transportation initiatives that secured billions in transit funding – is also her top priority in Olympia.
An attorney by trade, Jessyn focuses on mediation and most recently worked on youth civic engagement with Seattle City Club.
As a mother of two young children, she is passionate about Washington's education system and will advocate strongly for fully funding our kids' education system, from early learning through higher education.
Roger Freeman (Federal Way) – Before his election to the Legislature, Roger served for three years on the Federal Way City Council and on the City of Federal Way Human Services Commission.
Before entering public service, Roger worked for 17 years as a public defender attorney representing those affected by mental illness, the homeless, and the poor. He has been a consistent advocate for those who have been disenfranchised by society.
Roger lives in Federal Way with his wife and two children and is an active member of his local PTA.

Cyrus Habib (Bellevue) – Cyrus grew up in Bellevue and attended Bellevue public schools. At age 8, he lost his eyesight to cancer, but he went on to college at Columbia, to Oxford as a Rhodes Scholar and to Yale Law School, where he was editor of the law review. He currently practices law with the Seattle firm of Perkins Coie, specializing in meeting the legal needs of high-tech start-ups.
Cyrus has served on the Bellevue Human Services Commission and on the King County Civil Rights Commission. An advocate for the disabled, he has testified before Congress on the need to redesign paper currency to enable the visually impaired to distinguish among different denominations.
He is a trustee of the Bellevue College Foundation, which raises money for scholarships for students with financial need, and a member of the board of the Bellevue Downtown Association.
Dawn Morrell (Puyallup) – Dawn has lived in Puyallup for 28 years with her husband Jim, a retired Air Force pilot. Dawn continues to work as a certified critical care Registered Nurse at Multicare Good Samaritan Hospital in Puyallup where she has worked since 1984.
Dawn represented the 25th Legislative District from 2002 until 2010. Her legislative priorities included building a strong economy by investing in education, strengthening our business climate to create good paying jobs with benefits, and ensuring that affordable quality health care is available to every Washingtonian.
Dawn and Jim have been married for 44 years and have two children and five grandchildren. Their two children, Jereme and Jameson, attended Puyallup public schools and graduated from Rogers High School.
Marcus Riccelli (Spokane) – Marcus served as Senator Maria Cantwell's Eastern Washington Director, from 2007 to 2010. He also served as Senior Policy Advisor to Washington State Senate Majority Leader Lisa Brown for the past two regular and five special legislative sessions.
Marcus is active in Spokane's downtown Rotary 21, serves on the Spokane advisory board for Daybreak Youth Services, is active with the YMCA as an advisor to the Spokane YMCA Youth Legislature Delegation, and has served as a City Plan Commissioner.
He is married to Amanda Riccelli, and they are the parents of a young son.
David Sawyer (Tacoma) – David has focused on issues that matter to the community as a government affairs specialist working with local government and nonprofits. He has served as a board member for Project U, a United Way-sponsored program, and as a mentor through Big Brothers Big Sisters. David also has worked three summers with children with special needs at a summer camp.
After graduating from Central Washington University, where he majored in political science and geography, David moved to Washington, D.C., and interned for the American Political Science Association.
David is currently a law student and works at Ladenburg Law in Tacoma.
Monica Stonier (Vancouver) – Monica sees public service as a calling and a responsibility. She decided to run for office because she feels passionately about keeping Clark County a great place to raise her family.
Professionally, Monica works as an instructional coach at Pacific Middle School in Vancouver. Previously she was a middle school teacher. She believes that today, we are educating workers for jobs we cannot even imagine.
Her professional work reflects her belief that the priority of public education should be to teach kids to think critically, not just pass tests. After working in a school and watching families grow in this community, Monica sees firsthand the need for stronger partnerships between jobs in our community and work force training and education.
Gael Tarleton (Ballard) – Gael works as a strategic advisor for the Institute for National Security Education and Research at the University of Washington, where she has worked since 2004. She also serves as a technical advisor for Pacific Northwest National Laboratory in Seattle.
Gael began her career as a senior defense intelligence analyst for the Pentagon, working on security issues affecting ports across the country. She was responsible for creating disaster preparedness and emergency response plans for ports nationwide.
Gael was elected to the Port of Seattle Commission in 2008. In her first term, she's worked to create greater transparency at the Port, protect the environment, and bring an end to human trafficking.
Gael and her husband, Bob, live in Ballard.
---