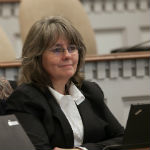 Friends and neighbors,
Today begins the fourth week in Olympia as your legislator from the 36th District! First there was the swearing-in ceremony on January 14th. Then we went right to work in our committees. I'm serving on Higher Education, Rules, Transportation, and Technology and Economic Development. Last week I took my first votes to move bills out of committees.
The schedule is demanding… and it needs to be. We're trying to fulfill our constitutional duty to amply provide for the education of all children residing in our state. We need to take care of those who struggle every day – the developmentally disabled, the mentally ill, the homeless, and those who are hospitalized. And there are 270,000 Washingtonians still looking for work, devastated by the Great Recession and hoping there will be a place for them as our economy gradually recovers.
We are a state blessed with an extraordinary history that honors public education, community centers, public health facilities, and diverse cultures. Every neighborhood is filled with people who care. Here's their imprint: food banks, local festivals, farmer's markets, and block parties. And when people need to take a break from the day-to-day routine, they head to the beach…take a bike ride…go kayaking or skiing…or just enjoy an afternoon at the local park while their kids go skateboarding or play on the jungle gym.
The challenges ahead are not insurmountable. We will be making some tough decisions. There are genuine needs that require our financial support. I look forward to hearing from you as we tackle K-12 funding, affordable higher education, expanded access to healthcare, and creating jobs to build a clean-energy economy. There is no problem that a good idea can't solve. So please send your ideas and let me know if we need to switch gears and try something new. And come visit us!
Your voice in Olympia,
Gael
---