Friends and neighbors,
I am excited to share with you my first e-newsletter. We are now starting the fourth week of the session, and I want to catch you up on how I've been working for you here in Olympia.
Legislative Update Video
If you missed the introductory video from the first week of session, please take a moment to watch it and learn about my goals for this year. It also outlines how you can reach me during the session, as well as after session when I will move back to the 36th district.
Local Breweries in the 36th
The Washington Brewers Guild members trekked to Olympia last week, and it was great to meet with a brewery owner from our very own Ballard. Did you know that the 36th district has 12 breweries, the highest number in all of Washington's legislative districts? The brewer from the 36th district has just opened the doors of his Ballard brewery and hired six employees, providing each of them with full health benefits.
Our conversation reminded me of the power each of us has to contribute to local, community-based economic growth for our neighbors. I am looking forward to continuing my conversations with brewers as well as other small business owners and working with them to strengthen our local economy.
Protecting our Neighbors' Homes
A very brave woman, Dana Widrig, inspired me to introduce my first bill last week. She was brutally attacked in her apartment when a maintenance worker gained access to the landlord's open lockbox and substitute keys. Since this tragedy took place in 2009, Dana has fought to raise the legal standards for protection of substitute keys, and you can read more about her hard work and this legislation in our interviews with King 5.
This is both a public safety and a privacy issue, and since our 36th district contains thousands of apartments, we must advocate for safely securing these substitute keys. House Bill 1647 requires landlords to safely maintain their substitute keys and has received a great deal of bipartisan support. We are hopeful that we can make progress this session to prevent future tragedies from taking place and to ensure that our neighbors and families remain safe in their apartments.
Supporting our Students
The Washington State Legislature's steep decline in financial support for higher education over the past few years has made higher education seem out of reach. We are doing all we can to give our kids a chance to build their futures with access to higher education, which has led me to sponsor a bill to establish a tuition support fund as part of Guaranteed Education Tuition (GET).
This will authorize employers and foundations to support students facing tuition hikes. I hope this tuition support fund sets our state on the pathway towards a strong, accessible higher education system, and I encourage you to look out for this bill when it drops later this week.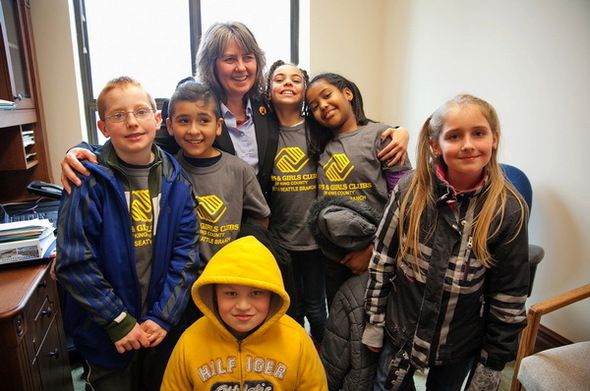 To help me better represent you and reflect the diverse interests of our district, I hope to hear from you during this session. If you have a chance to visit us in Olympia, please do so! We are tracking how many constituents visit and also which neighborhoods turn out the most people, so I hope you'll take the time to come down.
Also, I have been attending community events up in the 36th district to make it easier for you, and I will be sure to let you know through this e-newsletter when future meetings take place. I look forward to seeing you in the weeks ahead.
Your Voice in Olympia,
Gael
---