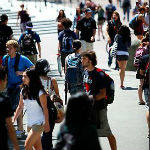 State Rep. Gael Tarleton (D-Ballard) introduced legislation this week that would create a Tuition Support Fund within the state's Guaranteed Education Tuition (GET) program. House Bill 1725 aims to protect students from being priced out of a college education before they graduate.
"We all have a common stake in ensuring our students succeed," said Tarleton. "By creating a tuition safety net, students can enter college without having to fear a 40 percent tuition increase by the time they graduate."
The bill will allow private employers and private foundations to purchase GET credits and establish tuition scholarships for future students. Tarleton's bill would also expand the GET pool, which may ease concerns about the program's estimated $631 million unfunded liability.
"GET has provided opportunities for over 27,000 college students," said Tarleton. "I'm looking for ways to strengthen the GET program, not dismantle it. We need to make college more affordable for students."
A freshman undergrad entering the UW in 2009 paid about $9,300 in resident tuition and fees. That same student is paying over $12,300 in tuition and fees this year.
According to ProjectStudentDebt.org, the average debt for a Washington undergraduate student at a four year school is $22,244.
---