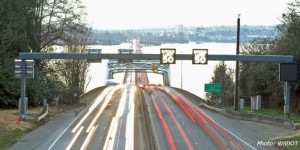 Drivers on the SR 520 floating bridge across Lake Washington will get more of a chance to plead their cases with the state bureaucracy if they get slapped with unfair extra penalties for non-payment of a toll, under a bill by Rep. Cyrus Habib, D-Kirkland, that goes before the House Transportation Committee Wednesday.
House Bill 1941 would give judges in the state's special "toll court" more leeway in cases where drivers appeal the inflexible penalties for non-payment of tolls on the SR 520 bridge and other tolled bridges.
"We just want to be fair to drivers on the bridge," Habib said of the bill, which is co-sponsored by committee chair Judy Clibborn, D-Mercer Island, and Larry Springer, D-Kirkland. "We've got a new system on the bridge, with no toll booths, and drivers shouldn't get hit with heavy penalties because of bureaucratic foul-ups."
Tolls were first imposed on the 520 bridge last spring. Electronic sensors either detect a special electronic windshield indicator, which drivers have acquired in advance and have linked to a prepaid or online account, or the sensors record the license-plate number of the vehicle and the owner is billed by mail for the toll.
But as described in news articles, in some cases the bill never arrived in the mail or was not forwarded to the vehicle owner's new address, triggering penalties for delays in making payment: $5 after a 15-day lapse, and another $40 after an 80-day lapse, for each crossing of the bridge.
Attempts to explain the cirumstances in the toll court have largely fallen on deaf ears. Current regulations authorize judges to reduce penalties only if the original toll was assessed in error.
Habib's bill spells out that aggrieved drivers may explain any mitigating circumstances, including the failure to receive a notice in the mail, and that judges may respond by reducing or dismissing the $40 penalties. The drivers would remain liable for paying the actual tolls.
"The vast majority of drivers pay their tolls, and it would not be fair to them to let scofflaws off scot-free," Habib said. "But everyone deserves a day in court."
The committee will hear the bill at its meeting at 1:30 p.m. Wednesday in Hearing Room B in the John L. O'Brien Building on the state capitol campus.
SHARE ON: