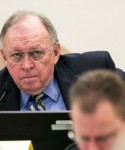 I'd like to invite you to a Live Chat session I'll be hosting on Monday, March 18 from noon to 1 p.m. The focus of this chat session will be higher education, so I'd like to have a dialogue with students, parents, faculty, administrators, and anyone else with an interest in higher education issues.
During the live chat session, I'll provide updates on what's going on with higher ed in the Legislature, especially now as we begin the next phase of the session and focus more attention on the state budget.
Over the last four years, the state has drastically reduced support for higher ed as a result of the Great Recession. The House Higher Education Committee has been working all session in a bipartisan fashion to develop a strategy to increase state support. We need to make college more affordable for students and I'd like to hear your thoughts on the matter.
Please join the discussion, Monday, March 18 from noon to 1 p.m. You can set an event reminder by submitting your email address in the chat window below.
If you have any questions about this event, please contact my office at 360-786-7802.
I look forward to our "chat" about some of the most serious choices facing our society today – your ideas will be most welcome.
Thank you
– Larry
---