Several new members have joined the House Democratic Caucus since the 2013 regular session, including Mia Gregerson. Mia (MEE-uh) was appointed by the King County Council to fill the unexpired term of former Rep. Dave Upthegrove following his election to the council in November. Mia represents the 33rd Legislative District, in south King County.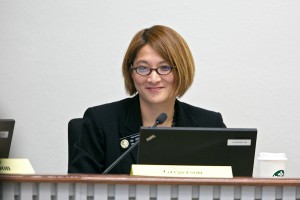 Before her appointment, Mia served as a city council member and deputy mayor for the city of SeaTac.  While on the council, she served on the executive board of the Puget Sound Regional Council, on the board of directors for Sound Cities Association and on other regional committees.
Mia has been a surgical assistant and business manager in the dental field for more than 16 years. She has degrees from Highline Community College and the University of Washington. Mia was born in Taiwan and adopted as an infant by an U.S. Air Force couple, with whom she moved to the United States. She represents one of four generations of her family in the South King County area.  Her daughter, Alexis, currently attends the University of Washington.
Mia took some time out from her busy legislative schedule to answer a few questions about herself and her new job.
Q: What inspired you to run for public office?
MG: Initially it was the desire to help people and to give back.  Now that I have been in office for a few years, I am also committed to helping give a voice in the community to people who don't otherwise have one.
Q: Is there a moment you'll remember most from your first day as a House member?
MG: It was like a warm hug when I first saw my name – my family name — on the big screen in the House chamber, and my Chinese middle name on my desk placard.  I am here in the United States as a legislator because of the love and support from my family.  I felt like it was a tribute to their unconditional support for me.
Q: What is the most difficult part about being a legislator?
MG: The first week!  There is no way to fully grasp or understand how the day-to-day processes work.  It was difficult to find time to do the basic personal-care things, but now it's better!  It's also not easy to strike the right balance between being a humble and quiet team player and a strong-voiced leader with an opinion.  Relationships are very important to me, so finding time to develop them can be a challenge, especially when we are so busy during the session.
Q: If you could pass any legislation, what problem would you try to solve?
MG: I would fix our transportation funding needs.  The solution would not pull funding from our children:  It would not be a concrete-over-kids piece of legislation.
Q: If we peeked at your iPod, who would we see?
MG: Ha ha!  You will see a mixture of Sir Mix-a-Lot, Eagle-Eye Cherry, Enya, Def Leppard and a lot of '80s music.  Not really because that's the only music I like; I've just been too lazy to update it!
---