Dear Neighbor,
It's nearly mid-session in Olympia and I wanted to introduce myself as your new state representative from the 33rd Legislative District.  For me, the last few weeks have been a whirlwind of meeting new people and learning new things, but I will NEVER forget where I come from and the needs of our community.
I have called the 33rd Legislative District my home for more than 30 years. I believe my local government background should help give me a good grasp of what policies and programs mean the most to you.  Please know my door is always open and I look forward to working with you!
I will be sending out these emails every couple weeks. I know that staying connected to you, hearing your concerns and answering questions is the best way I can be an effective legislator.  Please click and sign up to continue receiving these newsletters, if you do not sign up you will no longer receive these updates. You should also always feel free to send me an email or call my office!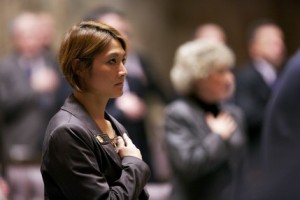 Being sworn in was such an honor and privilege.
---
Priorities
Reducing congestion and improving freight mobility in South King County: I believe the top priority for our district is transportation. The state has created a backlog of critical repairs to our roads and bridges by not making infrastructure a priority. We should be doing more to increase mobility for freight in South King County to ensure our economy continues to grow as we move out of this stubborn recession. I hope we can work through the partisan bickering on this issue and I will do everything I can to work toward a solution that gets us moving.
Improving our schools: The Supreme Court has made it clear that we have not  made our public schools a high enough priority. I know we can make it a higher priority to ensure we have manageable class sizes, retain and recruit high quality teachers and bring in the best practices from other places. We need to give our kids every opportunity to succeed.
Strengthening our safety net: Even as the economy starts to rebound, we still have too many people falling through the cracks. I will focus on creating more affordable housing, ensuring people have access to healthy, nutritious food and helping to implement the Affordable Care Act in Washington so families have access to health care.
Ensuring government runs efficiently: We build trust in state government only if it runs smoothly and works for people. That's why many of the first bills I am working on help make government more efficient.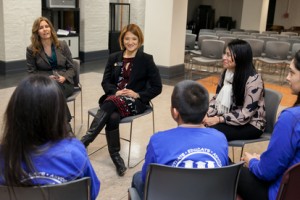 Rep. Orwall and I met with constituents early this session to discuss the DREAM Act.
---
Legislation
The 2014 session has already been eventful. We are a little over a third of the way done.  You can see a complete list of all the bills that I have both sponsored and co-sponsored here, but I want to outline the bills I'm proud to have introduced as the lead sponsor.
Almost all of the bills I have promoted as lead sponsors focus on efficiencies. I have made it a big priority this year to make sure our government is being run in an efficient and productive manner.
HB 2446 works to simplify the process for obtaining a refund of property taxes.
HB 2613 will make simple regulatory changes to ensure our higher education system is more efficient and effective, so more attention and energy can be focused on our students and the future of the state.
HB 2723 works to improve the Foreclosure Fairness Act. The FFA was originally written and introduced to the Legislature in 2011 by my 33rd District seatmate, Rep. Tina Orwall. This bipartisan bill was drafted after many hours of consultation with stakeholders and experts in the field.  I believe this bill will help make the FFA be more clear, effective and efficient.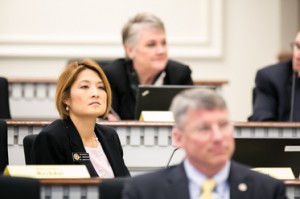 ---
New District Office
Stay tuned for the address, hours and contact information for my IN district office!  It will be located in Kent and will be a place where you will feel comfortable and welcome.  Our goal is to be in a convenient location that where we can gather to discuss issues and get to know one another.  I am committed to making myself available to you and, of course, to all of the residents of the 33rd District.
Lastly, I am so proud to see that 2014 will finally be the year of the DREAM Act!    One of my favorite quotes is;  "In the end, if it's not OK, then it's not the end!"  Our children deserve to dream and to dream BIG!
I wish you all the best and look forward to seeing you soon.
Mia
---