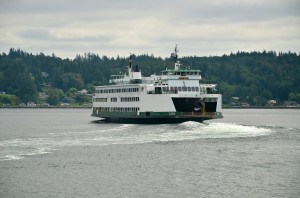 Governor Inslee signed House Bill 1129 this morning to update the state's aging ferry fleet with a new ship. The addition will improve transportation, reduce costs of operation and sustain hundreds of shipyard jobs.
"This is a win for the entire state," said Rep. Jeff Morris (D-Mount Vernon), the sole sponsor of the legislation. "Ferries support tourism, transportation efficiency and commerce. This is a bill that benefits every taxpayer."
The state's ferry fleet—the largest in the nation—includes some boats that date back to the Eisenhower Administration. The state Department of Transportation has already contracted with Vigor Industrial to build two new 144-vehicle ferries at its Puget Sound shipyards. Morris' bill will finance construction of a third boat, taking advantage of the worker skills, expertise and efficiency developed by Vigor and thereby saving millions on the cost.
In November 2012 the M.V. Sealth was in the middle of a route when a hole was discovered in the hull. The ship was immediately pulled for repairs, but the replacement ship was almost a third smaller, significantly impairing ferry transportation capacity. Morris' bill will proactively update the ferry fleet, helping to avoid future service emergencies when older ships break down.
"Building a third ferry is crucial to having a reliable and attentive service for our maritime communities that are served by our ferry system," Morris said. "Our ferries are crucial to our economy and way of life, and it's essential to propel the fleet into the 21st century."
Improvements to the ferry system are especially important to residents of the 40th Legislative District, which includes the San Juan Islands and the mainland coast from Anacortes to Bellingham.
---