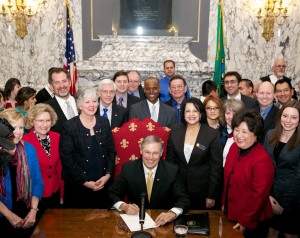 This year, lawmakers passed the DREAM Act, to give hard-working students a fair shot at earning their college degree.
It's now the law. So this fall, the first Dreamers helped by this reform are getting financial aid and moving into dorms at UW, Western and other universities in Washington state.
Here's a great story by Kyle Stokes at KPLU taking a long look at what this really means to students like Carlos Escutia, his family and the state of Washington.
New Generation Of Undocumented Students Starts College Under Wash. 'Dream Act'
The DREAM Act was the first piece of legislation to pass the House of Representatives in 2014. It made history by passing on the first day of session, something no one could remember happening before.
Stokes' story explains why the law may now be making history for students in our state:
According to Harvard sociologist and former UW professor Roberto Gonzales, "the Washington Dream Act is certainly a game-changer for many young people in the state," precisely because a lack of access to financial aid has prevented many undocumented students from ever enrolling in college. …
It's possible the Washington Dream Act is already having an impact. Since the applications were released in May, more than 2,000 students have already applied for state need grants. Though higher education officials say it's tricky to compare this figure with the 2012 numbers, they do suspect the new law is offering many undocumented students a shot at a college education they previously couldn't afford. 
The House of Representatives also did a short documentary about the Dreamers and how this bill became law.
[youtube=https://www.youtube.com/watch?v=GQPom_aaZG4]
---