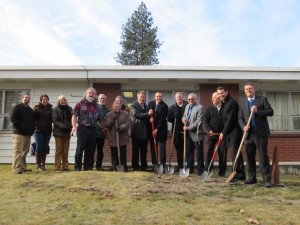 Representative Marcus Riccelli has been named vice chair of the House of Representatives Health Care & Wellness Committee for the 2015 Legislative Session by the Democratic majority.
"I am extremely proud and grateful to once again serve as vice chair on this important committee," said Riccelli. "Our community is stronger when all of us has access to the care we need. We have more work to do to make sure all families have quality health care and that begins with making sure access is easy and affordable."
In addition to serving on Health Care & Wellness, Rep. Riccelli will return to the Transportation and Capital Budget committees, where he will continue to ensure that our community is well-positioned to take advantage of the jobs and infrastructure these budgets make possible. In the last budget cycle, his work on the capital budget committee helped secure funding to allow the Lower Falls (Peaceful Valley) Community Center to double slots for youth, and Emmanuel Family Life Center to undertake renovations needed to open an early-childhood daycare center. He helped Spokane Neighborhood Action Partners and Spokane Public Radio secure new homes, and enabled NEWTECH Skill Center and Valley TECH to undergo dramatic renovations with nearly $13.5 million in funding.
As a member of the Transportation Committee, Riccelli will emphasize the need for real investment in a transportation proposal which includes funding for projects like the North Spokane Corridor that improve freight mobility, shorten our daily commute, expand safe routes to schools, and create new transit options, like the Central City Line, connecting neighborhoods and reducing cars on the road.
Rep. Riccelli is serving his second term in the House of Representatives.
---