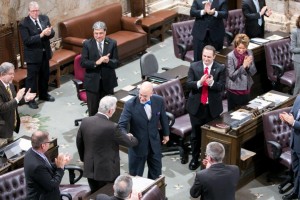 Dear Friends:
We are at the start of a new legislative cycle and the halls are filled with citizens talking with legislators and staff about their favorite issue whether it be food banks, health care or protecting the environment. We are tasked with not only passing laws but figuring out how we are going to pay for them.
Washington State is on a two-year budget cycle. The primary two-year budget is enacted in the odd-numbered years, and a supplemental budget making adjustments for things like a dip in revenue is enacted during the even-numbered years.
Operating Budget: The operating budget includes funding the general day-to-day operating expenses of state agencies, colleges and universities and the public schools. Funding for school districts, leases, goods and services, employee salaries and benefits, and medical assistance payments are typical operating expenses. The major sources of General Fund-State revenues are the retail sales and use tax (51%), the business and occupation tax (20%), and the state property tax (12%).
Capital Budget: The capital budget includes funding for the construction and repair of state office buildings, universities, prisons and juvenile rehabilitation facilities, parks, public schools, housing for low-income and disabled persons, and for other capital facilities and programs. Over half of the capital budget is financed by state-issued bonds, while the rest is funded by dedicated accounts, trust revenue, and federal funding sources. The budget often takes back moneys from previous years when projects have not been completed to use in the um-coming cycle.
Transportation Budget: The transportation budget includes the operating (33%) and capital (67%) costs of state and local highways, ferries, and motor vehicle registration and enforcement. About 76% of the 2013-15 transportation budget is funded by state resources (24% from bonds), 2% from local sources, and about 22% from federal funding sources. Transportation related bonds are financed primarily through the motor vehicle fuel tax.
Spending in one budget can and does affect the other budgets for example, last year was the first time in 18 years there was no Capitol Budget which meant that many local projects like food banks, parks and community centers did not receive the funding they needed.
We will be spending the next 3 months figuring out what these various budgets will look like.
I appreciate your interest in what is happening down here in Olympia, you can contact me at jim.moeller@leg.wa.gov or call me at 360-786-7872.
---