Dear neighbor,
I am delighted to share my first update on the 2015 Legislative Session from Olympia.
Since the Session began on January 12th, I've received more than 5,000 emails from constituents advocating for the important issues we face: fully funding education, protecting our safety net, supporting our higher education system, putting a price on carbon pollution, expanding our transit system, raising our State's minimum wage, and putting funding back into our mental health system, among others. I share these priorities and was pleased to sponsor the first bill of the year to pass our State House to invest more in mental health.
The big question we face is how we'll raise the revenue to fund these priorities, and how we put forward a budget that invests in our values of opportunity for all, not just a select few.
It's my second session in Olympia. I serve on our Appropriations, Judiciary, and Early Learning & Human Services committees. Along with my fiancé, a marine biologist with the State Department of Natural Resources, we're spending our weeks in Olympia and weekends in Seattle. I am planning a constituent Town Hall in March. I will share the Town Hall details in a subsequent update.
My newsletter will feature updates on key bills over the coming months. Please don't hesitate to reach out to me on issues important to you.  It's a tremendous honor to serve you in Olympia.
My very best,
Brady
Joel's Law – One step in fixing our broken mental health system
Click on the video below to watch my House floor speech supporting Joel's Law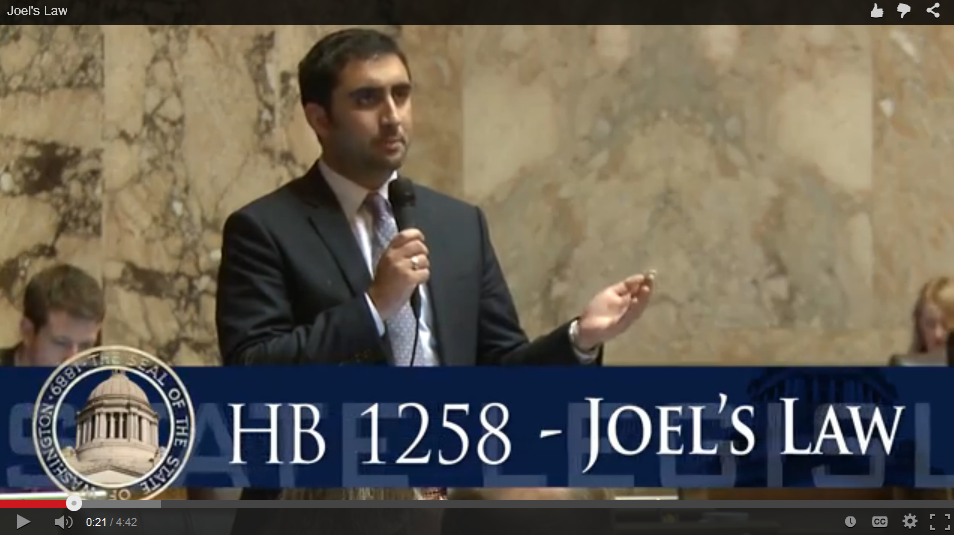 I'm pleased to report that the first bill passed by the State House this Session was Joel's Law, which strengthens our mental health system. Joel Reuter was a young man from Capitol Hill who struggled with mental illness, and could not receive the treatment he needed from our State's underfunded mental health system. In July 2013, he was shot in his apartment after a standoff with police. The Stranger ran this poignant article in memory of Joel after he died. The bill passed unanimously from the House floor – a vote of 98 to 0. I was the prime sponsor of this legislation, and worked closely with Joel's family to understand the challenges they faced while seeking evaluation and treatment for Joel.
Certificate of Restoration of Opportunity
In 2015, more than 7,000 people will finish prison sentences and return to their communities across our State. Within one year's time, more than half will be arrested again. After release, former prisoners face barriers to meaningful employment and housing, and these barriers increase the risk of another offense.
To address this, I have introduced legislation to establish a Certificate of Restoration of Opportunity. Over 90 professions in our State – from hair stylists to therapists – require licenses that cannot be granted to people with a past conviction. This Certificate would create a pathway for employers to hire individuals re-entering society in jobs across our State that require licenses.
This bipartisan proposal was passed unanimously from our Public Safety committee last week, and will now go to the House Floor. The legislation is supported by our State's courts, Prosecutors, Public Defenders, Law Enforcement, ACLU, employers like the Restaurant Association, and many others.
Listen to this KPLU story about the Certificate of Restoration of Opportunity.
Shared Prosperity
A new report shows that the wealthiest 80 people in the world now own as much wealth as the poorest 3.5 billion people combined – the bottom 50% of the world's population. Income inequality is growing, and we're feeling the effects at home.
In Seattle, our wealthiest households have an average income 19 times greater than the poorest. Our District, in central Seattle, faces rising rents and some of the highest increases in cost of living of any urban center in the country.
I am dedicated to thoughtful policies to tackle affordability and economic growth for all.
I joined colleagues in sponsoring legislation to increase the minimum wage and to require paid sick and safe leave for all employees. President Obama advocated for these priorities in his State of the Union address, and we are moving forward at the state level.
Did you catch what President Obama said about raising the minimum wage? Check it out here!

Thank you for checking in.  I look forward to your thoughts on the policies and issues before us this year.  It's an incredible honor to serve the 43rd Legislative District. –Brady
Serving our neighborhoods of Wallingford, Fremont, Green Lake, Ravenna, Roosevelt, Downtown, Capitol Hill, Montlake, First Hill, Phinney Ridge, Eastlake, Madison Park, University District, Madison Valley, and parts of South Lake Union and Ballard.
---