You don't need an advanced math degree to understand basic budget principles. Even though our state budget is 487 pages and takes several months to produce, the budget itself is not a complex tool. It is essentially a plan of allocating funds for anticipated expenses based on projected revenues.
The end result of our budget, like most budgets, falls into one of three categories:
Surplus – Our expected revenue collections are higher than our planned expenses.
Deficit – Our expected revenue collections are lower than our planned expenses.
Balanced – Our expected revenue collections are equal to our planned expenses.
A budget cannot fall into multiple categories. If revenues and expenses are aligned, it's a balanced budget. A single dollar added to either side of a balanced budget moves it to either the surplus or deficit categories.
Unfortunately, conflicting messages from Republican lawmakers have generated lots of confusion as to the current reality of our budget situation.
Republican lawmakers have claimed that our state budget has both an operating surplus and an operating deficit. Both claims cannot be true.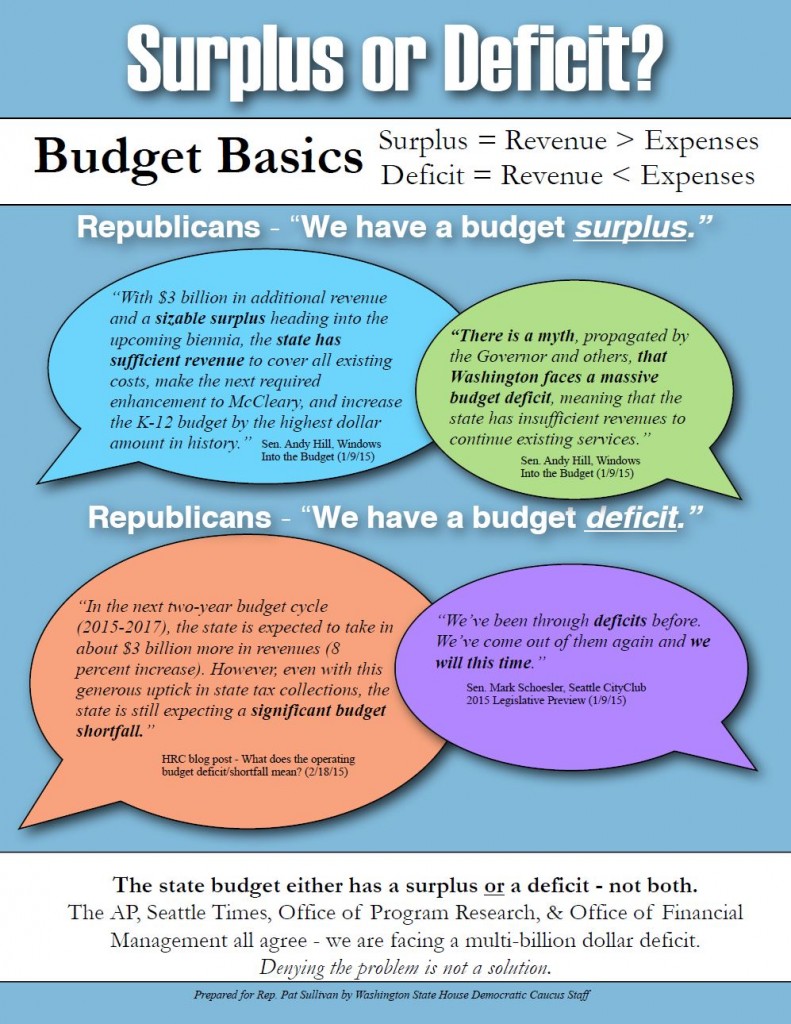 The truth:
The state does not have "a sizeable surplus."
The state does not have "sufficient revenue to cover all existing costs."
There is no "deficit myth." We have a budget deficit.
The facts, according to non-partisan legislative staff (Office of Program Research):
While revenues have increased, the cost of continuing existing programs (plus the cost of meeting current statutory obligations) has increased more quickly.
The budget "gap," as identified by the Economic Revenue Forecast Council for next biennium is at least $2.2 billion.
The gap grows larger if/when additional McCleary items, collective bargaining agreements, and other policy increases are included.
The reality is we would need to cut billions of dollars of state services without new revenue options. And because services like basic education and health care are legally protected from budget cuts, the majority of cuts would have to come from higher education, corrections, and human services.
These areas of the budget have suffered massive cuts since the recession. We cannot continue cutting our way to a more prosperous Washington.
House Democrats are working on solutions that will reinstate tax fairness. This will allow us to adopt a budget and revenue system that works for everyone, not just the wealthy few. In a few weeks, we will unveil a responsible, balanced budget that requires everyone to pay their fair share.
We want to hear your thoughts on budget and taxes. Post your budget ideas on our Facebook page and let us know what services are important to you and your family.
---