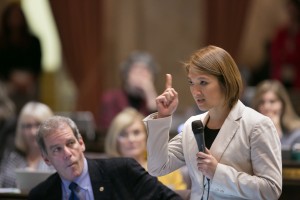 OLYMPIA – Today, in a 53-45 vote the House passed HB 1685, sponsored by Rep. Mia Gregerson, D-SeaTac, creating a comprehensive food policy forum.
"This bill is about opportunity, efficiency and building a healthy Washington," Rep. Gregerson said on the bill's final passage. "It's about building on existing public-private partnerships and making the most out of our government resources. This forum ensures that every part of the food-related process, from farm to table is a complete, integrated and accessible system.
HB 1685 establishes a public-private partnership called the Washington Food Policy Forum. The forum will create food policy in an all-inclusive format for our state. The forum will be a place where food-related policy and programs or issues can be examined, improved, and better integrated.
"People in my district have a life expectancy 10 years less than those nearby," said Rep. Gregerson. "Without access to healthy food we have higher rates of obesity and other diet-related diseases like diabetes. It doesn't have to be this way. We can do better. All Washingtonians deserve to be healthy, and live in communities with thriving economies."
HB 1685 sets forth concrete goals for the Food Policy Forum – including:
Increasing production, sales, and consumption of Washington-grown foods;
Developing programs that support providing proper nutrition and avoid obesity and chronic diet-related diseases;
Protecting land and water resources for sustained local production;
Encouraging continued farming and providing for the economic viability of local food production, processing, and distribution in Washington;
Reducing food insecurity and hunger in Washington by ensuring that access to nutritious food is available to families of all income levels.
The group is required to report back to the legislature on its findings by October of 2016.
---