Every child deserves a chance.
That's what I believe, and that's what our state constitution says. It's the paramount duty of the state to provide every child with a basic education.
Yet years of budget cuts have our public schools and universities struggling. This year, we have a chance to change that.
House Democrats voted on a budget plan that would boost spending in public schools by 21 percent. Not only is this our constitutional duty, according to the state Supreme Court, but it's the right thing to do for our kids and our state's economy.
We are meeting our constitutional obligation to fully fund our schools, but we know that in order to thrive, we need to go beyond just providing the minimum required by our constitution and our Supreme Court. We also need to make investments in early learning and higher education.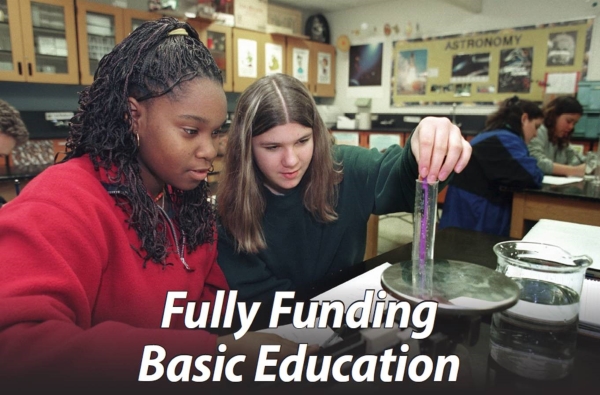 Here are some highlights from our budget plan:
$3.2 billion– Additional K-12 spending, a 21% increase in funding

$1.4 billion in boosts to "basic education" under the state constitution, including:

K-3 class size reduction
Full funding for all-day kindergarten for every child in the state
Materials, supplies and operating costs
Supports to prepare students for college and careers

$1.8 billion for reforms passed in 2013-15 to fully fund our public schools
$385 million– Restore cost-of-living adjustments for school employees, because as the state Supreme Court said, nothing is more basic than adequate pay for teachers and school employees.
$227 million – Expansion of quality early learning and childhood education. Providing high quality early learning is one of the best ways we can close the opportunity gap and make sure all our kids have a fair shot at success. We are improving the quality of early learning opportunities through programs like Early Achievers and the Early Start Act.
$256 million – Investments in higher education including two years of tuition freezes, student financial aid, and high-demand, high-salary degrees.
$100 million– New mental health capacity to ensure that people get the help they need in their time of crisis. Funding for mental health intervention and treatment will give law enforcement, emergency responders and mental health service providers the tools needed to better address people who are experiencing a mental health crisis. Everyone deserves dignity and respect, and unfortunately our current mental health system is leaving too many people with mental illnesses in prisons or emergency rooms because there is no room at our mental health facilities.
$9.6 million– Restore previous cuts to the state's Food Assistance program that feeds hungry children, families, and seniors in the state. No matter how much money we invest in K-12 education, hungry kids can't learn and homeless kids can't do homework. We can't just provide opportunity in the classroom, we need to give every kid the best chance to take advantage of that opportunity. By investing in our children, our families and our communities, we are creating a better Washington and an economy that works for everyone, not just the wealthy few. Moving our state forward is a shared task. We need to work together to build an economy from the middle class out.
Budget documents can be viewed at: https://fiscal.wa.gov/BudgetOBillsHouse.aspx
Construction budget invests in Pierce County
The House also released a plan for the state's construction budget.
This will put men and women in hard hats back to work, in every corner of our state, building schools, fixing parks and making our state a better place to live. In Pierce County, our projects especially emphasize projects that will keep our communities safe.
Local projects include:
$2.5 million for Pierce County's Chambers Creek Regional Park Pier Extension and Moorage
Provides public access to the shoreline of the Chambers Creek Properties
Extends the Bridge to the Beach Pier out into Puget Sound an additional 350 feet terminating in an ADA accessible 300 square foot viewing and seating platform and floating moorage, providing no-cost day use dock space for recreational boaters
$750,000 to help prepare for hosting the U.S. Open
100% of funds directed towards public safety and traffic management support
Allows Washington State Patrol to provide a coordinated security plan
US Open Golf Tournament is an 235,000 spectator event with an estimated $145 million regional economic impact
$462,000 for Western State's community police program
This funding will keep Western State Hospital and the surrounding neighborhoods safe and alleviates costs to local law enforcement
The Lakewood community policing program is a partnership between Western State Hospital and the City of Lakewood to patrol the Western State Hospital campus and the surrounding neighborhoods
The community policing program has reduced the number of police calls in the area by 40% and has resulted in a strong, positive relationship between hospital staff, police and the community.
$450,000 for Sentinel Way Restoration in Steilacoom
$110,000 for Waughop Lake Trail at Fort Steilacoom Park
$67,000 for Jacobs Point Addition on Anderson Island
$46,000 for DuPont Historical Museum Renovation
Construction budget documents are available here: https://fiscal.wa.gov/BudgetC.aspx
Fair Share Act
For too long, Pierce County has been the home of a disproportionate number of sex offenders upon release from the Special Commitment Center on McNeil Island.
The Fair Share Act (HB 1668) would ensure fairness in the release process so that no one county would shoulder an unbalanced burden. This is a bipartisan, public safety issue that particularly affects our district.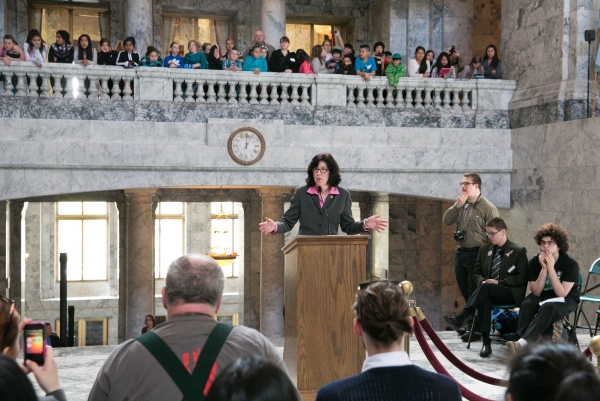 Speaking at the April 1st Autism Day Rally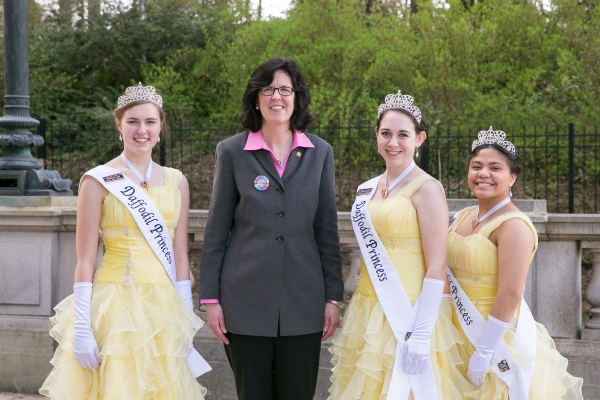 With the Pierce County Daffodil Princesses
---