Dear Neighbors,
We are in week 13 of the legislative session and I am very thankful to report that all of my bills that passed the House have also been passed out of Senate Committees and are just waiting to be scheduled for Floor votes.
The House and Senate have each passed operating budget proposals.  In my last newsletter I talked about some highlights of the House budget, which include key investments in early learning, K-12, and higher education (tuition freeze and increases to student financial aid), as well as protecting our most vulnerable residents with investments in mental health services. 
You can watch my legislative update on the proposed House operating budget and revenue proposal: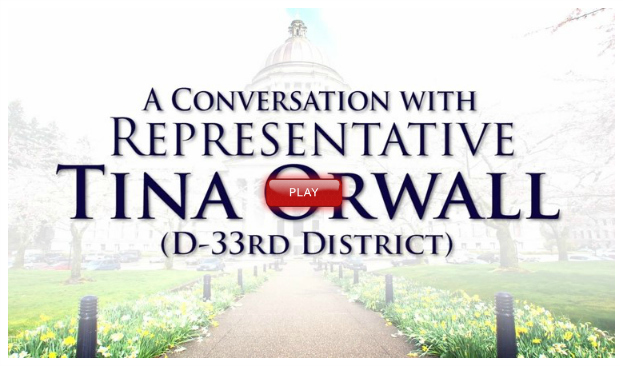 And here are a couple of recent editorials on the budgets:
Last week we also passed the House Capital Budget proposal that will put billions of dollars to work on construction projects mostly focused on education and higher education. Read more about the capital budget here. And you can find the list of projects in our district here.
—————————————————- 
Testimony on HB 1068 Testing Rape Kits 
I am very excited that my legislation to test all rape kits (SHB 1068) passed out of the Senate Ways & Means Committee yesterday.  You can watch my testimony by clicking on the picture below: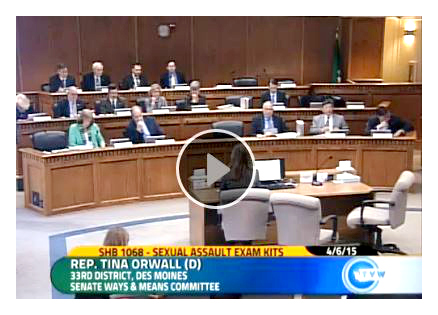 And you can read about this bill in the news here.
—————————————————-  
My bills relating to veterans are moving forward 
SHB 1138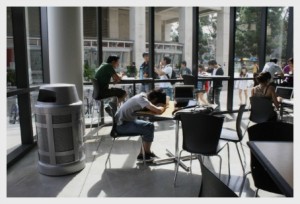 : Creates a task force on mental health and suicide prevention at public and private institutions of higher education. Our college campuses have significant numbers of young adults as well as men and women who have served our country.  Both of these groups of individuals are at higher risk for suicide. The task force, which will include veterans groups and experts in mental health, is to determine which policies, resources, and technical assistance are needed to support institutions in improving access to mental health services and improving suicide prevention responses.
HB 1424: Requires the Department of Health to adopt rules establishing minimum standards for suicide prevention training programs, to include veteran specific content.   But most importantly, in a person's darkest hour, when they have the courage to reach out for help, they will get the support they need and deserve.  This bill is about saving precious lives.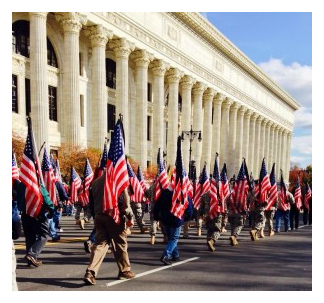 A number of other bills concerning veterans and their families introduced in the legislature this session are also moving forward, these are some of them:
—————————————————- 
House Page Connor McClean
Local high school student, Connor McClean, paged for the House last week!  You can read about Connor's page experience in the B-Town Blog here and the Highline Times here.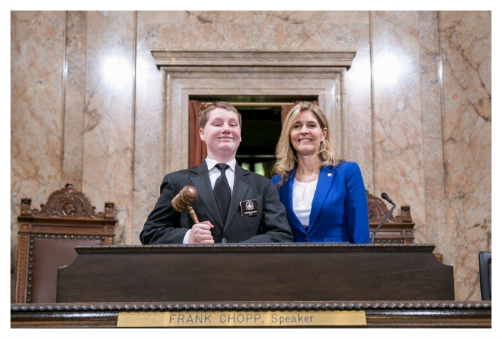 Please keep your calls, emails and letters coming!  I appreciate your feedback.
Sincerely,

---