Keeping our Promises in Transportation
The House of Representatives passed a bipartisan, maintenance-level transportation budget that continues the work already in progress on projects across the state. The $7.7 billion budget is about $700 million less than last biennium, largely due to less infrastructure being built. Although less revenue is being brought in, fewer ongoing projects allows for a bit of additional spending in new areas. New allocations included more for bridge maintenance and preservation, as well as funding compensation increases for Washington State Patrol and transportation agencies.
Some of the projects in this maintenance-level budget in our area include the I-5/NE 134th St interchange, the I-205/Mill Plain interchange to NE 18th Street, the Fourth Plain Bus Rapid Transit, and the Yard Bypass Track which is another phase in the West 39th Street Bridge project, providing faster Amtrak Cascades service. Total funding for these and the other projects is around $57 million for the 2015-2017 biennium. You can see the rest of the projects we funded by clicking here.
While the budget did allow for these modest enhancements, it contained no new funding for major transportation infrastructure or transit – underscoring the critical need for a transportation revenue package. A modern transportation system that grows our economy, fights traffic, and works for all users will require significant new investments.
A New Transportation Investment that Reflect Washington Values
But, simply continuing with the status quo isn't good enough. We need a robust, modern transportation system that helps grow our economy and combat increasing traffic congestion in every corner of the state. That's why the House unveiled its new proposal for a transportation revenue package that will fund much-needed investments in transportation infrastructure.
It's a new revenue proposal that funds NEW projects all across the state and in our district. It helps cut down on gridlock by investing in transportation choices like rail, transit, bicycle and pedestrian infrastructure. Communities will also have the option to invest in themselves through expanded local transportation revenue options.
Our economy depends on businesses being able to efficiently transport goods and products to markets both local and international. Commuters needs to be able to get to their jobs without wasting time and money stuck in traffic. A 21st century transportation system is how we build an economy that works for everyone, not just the wealthy few. Our proposal would create 100,000 jobs across Washington.
We don't know every challenge that our state might face over the next two decades. That is why we created the Transportation Future Fund to give us flexibility to meet unexpected needs and opportunities. By implementing new project design practices that have consistently reduced costs by 40 to 80 percent, we can save as much as $1 billion over the next 16 years to address the needs of the future.
Most importantly, this is an honest package that reflects Washington values. Unlike the Senate proposal, it doesn't divert sales tax revenue to pay for transportation or raid money that is dedicated to funding environmental cleanup. Nor does it count that money multiple times – the same fuzzy math that Republicans have used in their operating budget. Our package builds a world-class, multimodal transportation system without mortgaging our schools, our environment, or our future.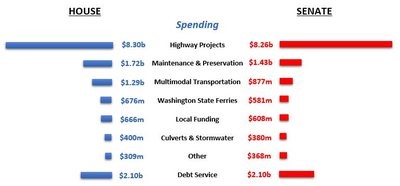 Stay in touch
I hope you find this information helpful and you keep up to date on what we're working on in Olympia. If you have any questions about a bill or an issue or just want to share your thoughts, please call my office at 360-786-7872 or email me at jim.moeller@leg.wa.gov.
---