SEATTLE – Yesterday, Washington CeaseFire, a statewide organization dedicated to reducing gun violence, honored Rep. Ruth Kagi, D-Seattle, with their Ancil Payne Civic Leader of the Year Award for her work as a legislator to reduce gun violence, especially among children.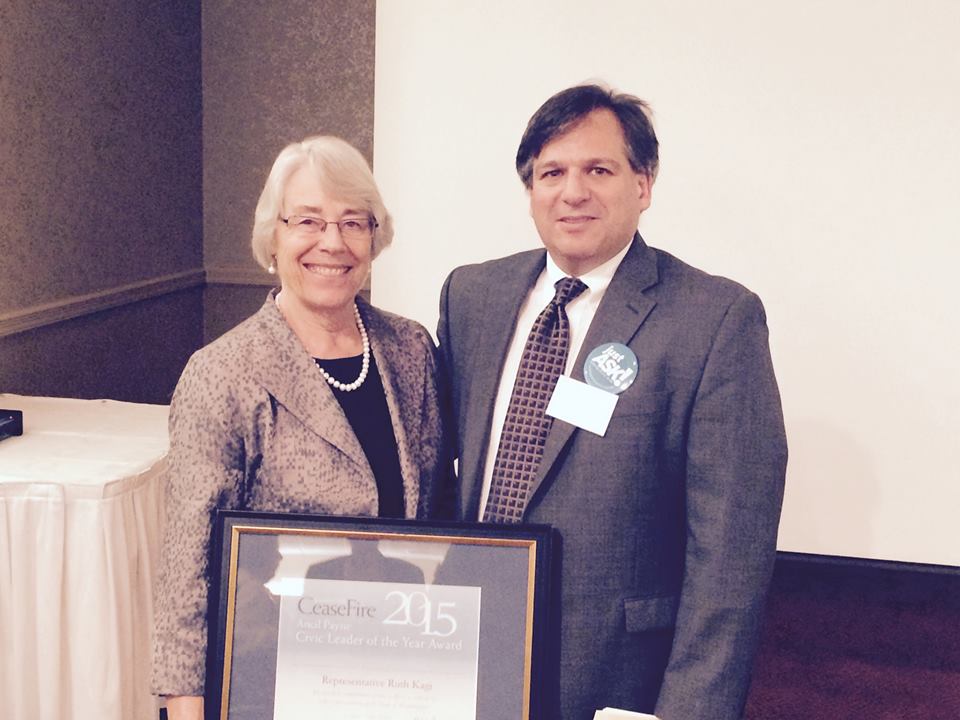 "Since coming to the legislature in 1999, I have worked closely with CeaseFire and other gun safety advocates to improve responsible gun ownership in Washington," said Kagi. "Having easy access to guns is a common thread running through most of the tragic events involving kids and guns. In order to reduce accidental gun injuries, shootings by youth in schools and other settings, and youth suicide, gun owners must safely store their firearms. Washington ranks number four in the nation for the number of youth suicides.  When youth are despondent and have access to a gun, a tragic and preventable death is too often the result."
For the last three years, Rep. Kagi has introduced legislation to require safe storage of firearms. This session, House Bill 1747, would not only have required safe storage of firearms, but would have required gun sellers to inform purchasers of the criminal penalties of improper storage and offer to sell or give a safety device at the time of sale. The bill did not receive a committee hearing and will therefore not be moving forward this year.
"I have lost count of the number of tragic events involving kids and guns in the news recently. Reducing children's access to guns is one of the most important things we can do to preventing injuries and deaths of children and youth from gun violence," said Kagi. "While I am disappointed that HB 1747 did not pass this year, I will return next year along with gun safety advocates, like CeaseFire, to keep working on safe gun storage and other changes that will reduce gun violence in our state."
According to research compiled by the Law Center to Prevent Gun Violence, in the vast majority of unintentional gun injuries and intentional shootings involving young people, the gun was obtained from the residence of the child, a relative or a friend. Research shows that reducing access to firearms can effectively reduce the incidence of gun deaths among children.
States that have child access prevention laws have shown that these laws work to reduce unintentional firearm deaths among children. Washington needs to join the growing list of states taking action to protect our kids.
---