The legislative session ran the longest in state history and resulted in a final, bipartisan budget that makes meaningful investments in education, mental health, and transportation.
Because of the improved economy and $425 million in revenue by closing tax loopholes, we funded our public schools, cut college tuition and created up to 244,000 construction jobs without passing new taxes.
STATE BUDGET
To fulfill a constitutional duty to fund basic education, the legislature came together to put a record $1.3 billion in new funding into our public schools, the largest increase in education funding in the state's history.
This funding will help people at all stages of their educational journeys—from providing our youngest Washingtonians access to early learning programs to easing our college students mounting tuition costs.
Early Learning—Quality early learning is by far the best investment the state can make to get all of our kids on the right path toward success. It's also the best way to close the opportunity gap. The budget invests more than $159 million in early learning to give every child, rich or poor, a chance in school and life.
Public schools (K-12)—The $1.3 billion in new funding will reduce class sizes from grade K-3, provide all-day kindergarten, and help our local schools with basic costs. Separately, we also gave teachers a long-overdue cost-of-living adjustment, because the best way to give kids a high-quality education is to have a top-notch teacher in every classroom.
Higher Education—All college students will receive a 5 percent tuition reduction for the 2015-2016 school year. For 2016-2017, students at UW and WSU will receive an additional 10 percent reduction, and students at regional schools will receive an additional 15 percent reduction.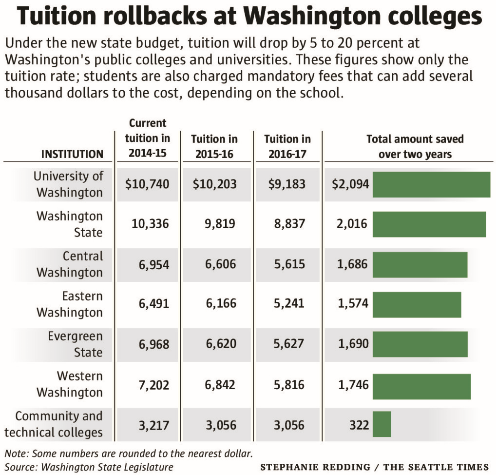 Other operating budget highlights include investments in mental health, restoring funds for the Temporary Assistance for Needy Families program, fully funding the negotiated state employee contracts, increasing support for foster kids, and providing $20 million in new funding to ensure state parks remain healthy and vibrant.
TRANSPORTATION BUDGET
The legislature passed a bipartisan transportation package that will modernize our transportation infrastructure, ease congestion, and help businesses get their products to market quickly and reliably. The $16.1 billion package has been almost three years in the making and will create as many as 200,000 jobs across Washington State. $496.4 million of the package will reduce congestion and improve mobility in the I-5 JBLM corridor.  Other projects in the 28th Legislative District include:
$2 million in track improvements and safety for the Point Defiance Rail Bypass
$2.64 million for the Gravelly Lake Non-Motorized Trail—Washington to Nyanza North in Lakewood
$2 million for the Lake City Business District Sidewalks—American Lake Park to Veterans Drive/Alameda
$745,000 for the 54th Street Project in University Place—sidewalk, planter strip, street lights, bike lanes, crosswalk markings, signs, crosswalk flashing beacons, curb ramps, speed feedback signs, education and encouragement
$380,000 for the Cirque Drive Safe Routes to Schools Project at Sunset to 83rd in University Place—Sidewalk, bike lanes, planter strip, street lights, and education
For more information on the 28th District transportation projects, please go to https://fiscal.wa.gov/BudgetTProjList.aspx
I have been a strong advocate for improving transportation choices and am pleased that so many Pierce County projects were included in the final package. As for the revenue package to pay for transportation, I could not support the funding mechanism for transportation—mostly a gas tax—because it hits working people and those on fixed incomes too hard.  It's also an unfair and increasingly obsolete and unsustainable tax because conventional cars are more fuel-efficient and the use of hybrid and electric cars is growing.
This chart show the how the lower-income earners have not experienced the rebound from the recession.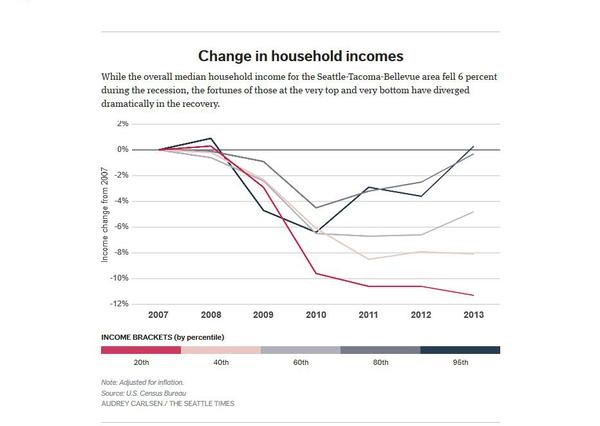 CAPITAL BUDGET
The $3.9 billion construction budget will create up to 44,000 jobs across Washington to build schools, universities, mental health facilities, and parks.
Western State Hospital received $43.8 million that will go toward building restorations as well as ward additions. Additional projects in our district include:
Chambers Creek Regional Park Pier Extension and Moorage
DuPont Historical Museum Renovation
Steilacoom Sentinel Way Repairs
Waughop Lake Trail at Steilacoom Park
Gene Goodwin Tot Lot Playgroup Renovation
Jacob's Point Aquatic Lands Enhancement funding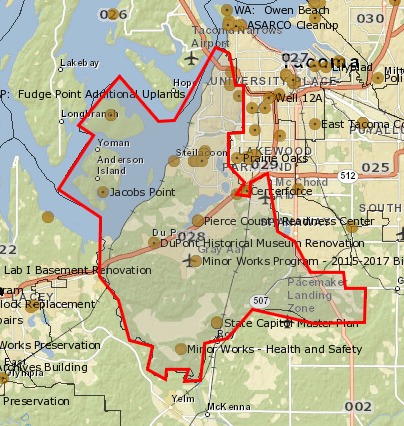 For a complete list of projects, please use the following link https://fiscal.wa.gov/CapitalMaps.aspx
VETERANS
This session we took many important steps to improve the lives of veterans' and their families. One bill that I worked on helped fix a glitch in a federal law that would have meant that up to 20,000 vets and their families could have lost their funding to get a college degree.
Other important bills that passed include Senate Bill 5793 that provides credit towards child support obligations for veterans' benefits and Senate Bill 5070 that will help the Department of Defense supervise military families with child abuse and neglect issues.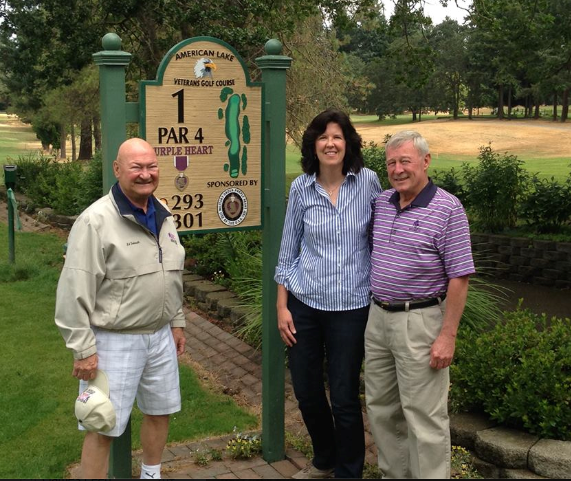 Phenomenal visit to American Lake Veterans Golf Course. Open to all vets and staffed exclusively by volunteers, it is the only golf course in the U.S. designed for wounded and disabled vets. 28th District at its best!
KEEP IN TOUCH
With the legislative session finally over, I am excited to spend more time in our district.  If you have suggestions about a community event to attend or a place to visit, or would like to meet, please reach out.
You can email me at christine.kilduff@leg.wa.gov or call the district office at (253) 534-3231. Thank you!
---