Inspiration Playground, Social Emotional Learning major highlights of her work this year
OLYMPIA – As one of the lead members on developmental disabilities on the House of Representatives Appropriations Committee, Rep. Tana Senn (D-Mercer Island) has advocated for organizations, projects, and budget advancements important to the developmental disability community. At the annual picnic, the King County Family Coalition of the Arc of King County honored Rep. Senn with the 2015 Champion for Children award "in recognition of your dedication to people with developmental disabilities and their families."
"We are thrilled to honor Representative Senn, as a champion for children with developmental disabilities. She has been an outstanding leader for children and families, and took a lead in her caucus in ensuring respite and other services were protected for waiting families whose children needed help," said Joe Cunningham, Outreach and Advocacy Coordinator with the King County Family Coalition.
"As a mother, I know that even under the best circumstances parenting is difficult," said Rep. Senn. "When a child needs services and extra care to help them succeed, we owe it to them and their families to do everything we can to make sure they're cared for properly. From developmental screenings to access to care for those with disabilities, there is much more we can and should be doing to ensure the success of all of our children."
On the policy front, Senn was the lead advocate for social emotional learning in schools, which will help all children gain important skills on responsible decision-making, self-awareness, self-management, social awareness and healthy relationships.
Rep. Senn was a strong advocate for state funding toward the construction of Inspiration Playground in downtown Bellevue, which will be receiving $1 million through the capital budget passed by the legislature last week. The playground addresses needs for children of all abilities in the community and is an innovative approach to childhood recreation that engages children in sensory play without barriers and inclusive environments for those mobility issues.
Her advocacy in both the Appropriations Committee as well as the Legislature as a whole helped ensure that vendors who provide care to those with developmental disabilities are paid a competitive wage.  Rep. Senn also supported the Community First Choice Option, which provides an increase in federal funding for home and community-based services ensuring an additional 5,000 people on the waitlist receive services.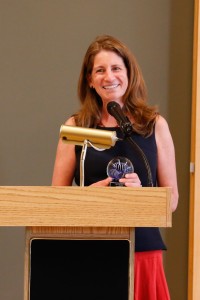 ---