SILVERDALE — State Rep. Sherry Appleton visited the Kitsap Humane Society (KHS) this week to present them with a ceremonial check symbolizing a $90,000 state grant for a new puppy room.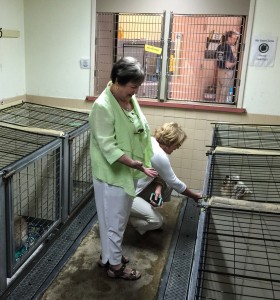 KHS, now in its second century of operation, is one of the largest and busiest no-kill animal shelters in the western U.S., and the area dedicated to their youngest charges has seen better days.  The funds from the recently approved capital budget will help the shelter upgrade its puppy kennels, and plans also include remodeling the space to improve lighting, drainage and ventilation.
"Sherry has a great passion for animals and animal welfare," said Tom Weed, the non-profit organization's director of donor relations, "and she fought hard for KHS."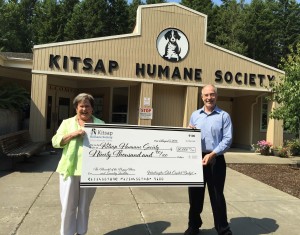 After touring the facilities, Appleton, a pet-owner herself whose current menagerie includes Sadie the Malamute and a gray tabby named Mr. B, handed off the oversized check to KHS Executive Director Eric Stevens.
"Moments like this remind me of how fortunate I am to be in public service," Appleton said. "This was a small victory in the context of a multi-billion dollar budget, but it will make a big difference in the lives of so many people and the wonderful pets they love. This is a great day."
---