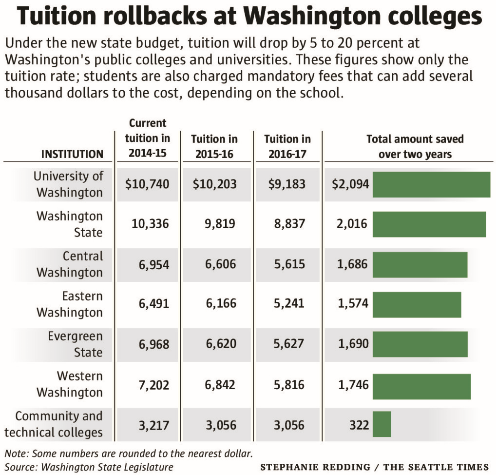 Cutting tuition for all students
Years ago, college students worked every summer to save up for that year's tuition.
You can't do that anymore. Your average college student could work a full-time job, all year, and not have enough to cover tuition, room and board.
This is why most students who drop out of college before getting their degree aren't failing academically. They're struggling financially.
It doesn't have to be this way.
Our state's economy runs on brainpower and depends on a strong system of colleges and universities.
This year, the budget we passed actually cuts tuition for the first time in our state's history.
The original proposal from Senate Republicans would cut tuition for students at UW and WSU while raising tuition for the 60 percent of Washington college students who attend community and technical colleges.
In the House, we fought to make sure tuition got cut for every college student.
In the first year, tuition is cut at least 5 percent for all public colleges and universities. Overall, tuition will go down 15 percent at UW and WSU and 20 percent at regional universities like Western, Eastern, Central and Evergreen.
GET goes through changes
If you bought pre-paid tuition through the GET program, years of sharp tuition hikes followed by the first-ever cut in tuition have made many people wonder about the future of the program.
I'm happy to report that I've been appointed to the Legislative Advisory Committee on Advanced Tuition Payment, which deals with the GET program.
Parents worried about losing money, or credits, should know that the GET program passed a number of changes, including offering refunds. Click here for more information about those changes and options.
Expanding support for students
College Bound Scholarship funding was increased to $61 million to welcome the fourth year of qualifying students to college.
Opportunity Scholarship funding was increased by more than $40 million to match private contributions to this program for low- and middle-income students to earn degrees in high demand Science, Technology, Engineering and Math (STEM) fields. (This is another example of where House Democrats successfully pushed Senate Republicans to increase funding to adequate levels in the budget.)
$4.5 million was provided to enable Central, Eastern and Evergreen to create and expand advising, mentoring and student support programs to boost graduation rates.
STEM education
Washington is in need of STEM graduates. From Boeing to Microsoft, Amazon to REI, Washington is a proven leader in many "STEM-educated" fields. House Democrats led the way in fighting for additional program expansions. This year's investments in our intellectual infrastructure include:
$6 million to expand computer science and engineering programs at UW, and $1.6 million at WSU.
$1.5 million to create cyber-security programs at Olympic and Peninsula colleges.
$750,000 for Bellevue College to help jump-start a new computer science 4-year degree program.
$1.6 million to fund worker training in aerospace and research efforts in Everett
---