Interim
We are no longer in session, but I am still busy with community events around the district and with researching future bill ideas. There are a lot of interesting things happening in our district right now because of legislation passed last session. One of the most exciting recent events was the groundbreaking for WSU Everett.
WSU Everett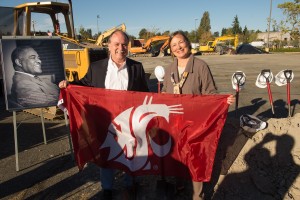 Washington State University has been a great partner with the City of Everett for a number of years and we are excited for them to expand their operations in the city. At a groundbreaking on September 23, they started work on a $54.6 million dollar project to house WSU North Puget Sound at Everett and the Everett University Center. WSU North Puget Sound offers classes in mechanical engineering, electrical engineering, integrated communication, and hospitality business management. These programs will continue to better educate our local workforce and supply local businesses with a talented pool of potential employees.
Paid Family Leave
An important issue that I introduced legislation on during last session is paid family and medical leave and just last week the federal government announced that Washington state will receive $247,000 to study the economic impacts of implementing a paid family and medical leave program. In 2007, Washington passed family and medical leave insurance, but the program did not get funded. My bill would have increased the scope of the 2007 legislation and fully funded its implementation. Paid family leave is important as it results in healthier babies, greater dignity for seniors, and more economically secure families and businesses. Five states currently have paid family leave and they have shown that moms are more likely to be working a year after birth and less likely to be on public assistance, dads are more likely to be involved with their children, and aging family members are able to stay healthier and independent longer. Paid family leave is an important step for economic stability in Washington homes and I am excited to see the results of the study.
---